Hastings College Jazz Festival
The Hastings College Jazz Festival is an opportunity for middle and high school jazz bands to perform on campus and work with outstanding jazz clinicians from across the country. The Festival culminates with a concert that features the jazz artists, the College's Jazz Band and other guests.
For 2019, Thomas "Bones" Malone (trombone) and "Blue" Lou Marini (saxophone), members of the original Blues Brothers band, headline the festival and are joined by Kirk Garrison (trumpet), Joey Gulizia (percussion), Tony Gulizia (keyboard/vocal) and Keri Chryst (vocal). All six jazz artists will serve as clinicians and work with students to improve their skills. (Bios for the clinicians are below.)
2019 Festival Details
Monday, April 1, 2019 (all day) – Bands perform and work with clinicians

Fuhr Hall / Lynn Farrell Arena (map)

Tuesday, April 2, 2019 (morning only) – Clinics (clinicians meet and work with small groups of students)
Cost: $150 per band to participate in the Festival (includes Monday and Tuesday); or $100 per school for Tuesday clinics only.
For more information, contact Hastings College Music at 402.461.7448.
The 2019 Hastings College Jazz Festival Concert is scheduled for 7:30 p.m. on Monday, April 1 at Lynn Farrell Arena (doors open at 6:30).
Scheduled performers (subject to change) include:
Hastings College Jazz Ensemble
Hastings Public Schools 5th Grade Jazz Combo
Hastings Middle School Jazz Cats
Hastings Middle School Show Choir
Hastings High School Tiger Jazz Ensemble
Hastings High School Chamber Choir
"The Band" — our guest clinicians
The Festival Concert is free and open to the public — a free will donation will be accepted, with all proceeds going to the Gary Sinise Foundation.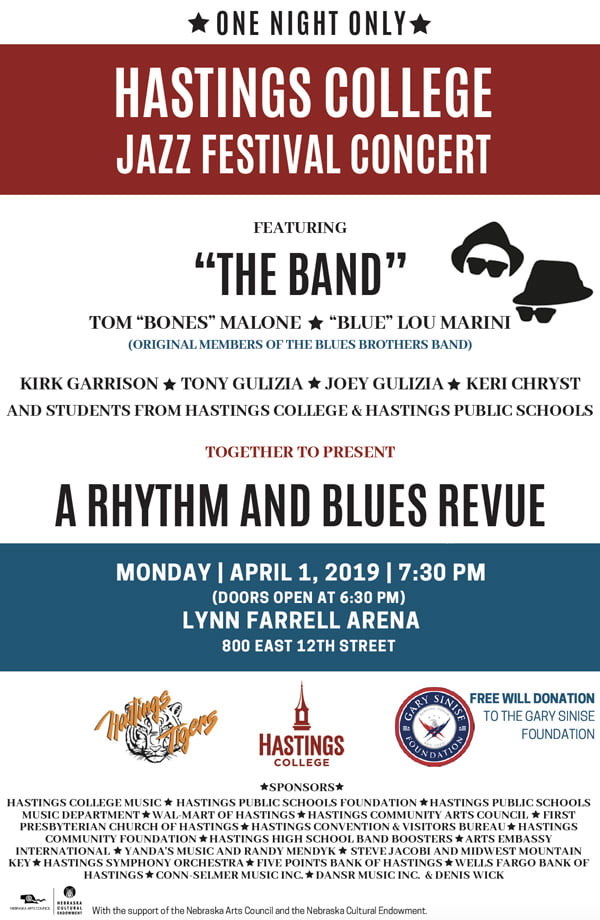 Thomas "Bones" Malone (trombone) is an American jazz musician, arranger and producer. As his nickname implies, he specializes on the trombone, but also plays trumpet, tuba, various saxophones, clarinets, flutes, piccolo and other instruments. He is famous for being a member of the original  Blues Brothers Band, Saturday Night Live Band (served as leader of the band from 1981 to 1985) and a member of the CBS Orchestra, the house band for the Late Show with David Letterman. Tom currently plays with the Lt. Dan Band.
"Blue" Lou Marini (saxophone) is one of the most sought after session horn players on saxophone, flute and clarinet. Solo artist, arranger and composer Marini has electrified audiences with his "sultry, seductive and singular" sounds in jazz, rock, blues, classical music and in film and television shows and specials. He's been a member of Blood, Sweat and Tears, The Saturday Night Live Band, the original Blues Brothers Band and his credits include hundreds of albums, many of which have gone platinum.
Kirk Garrison (trumpet) is a veteran of the Chicago jazz scene, and trumpeter/arranger who served in the United States Air Force Band until 1992. He is a member of the jazz faculty at Concordia University Chicago and Elmhurst College. As a member of the Lt. Dan Band featuring actor Gary Sinise, Garrison performs for scores of active duty military members, veterans and their families, including many charity organizations for disabled veterans. The band has toured extensively in the United States, Europe, Asia and the Middle East. He also performs as a guest soloist and clinician/adjudicator at middle schools, high schools and colleges throughout the country. He is a Schilke artist and a Denis Wick performing artist.
Joey Gulizia (percussionist) has been performing since childhood. By the age of 10, he was drumming regularly with his father Joe Gulizia Sr. and brother Tony. Joey's been involved in music education for over 30 years. He has conducted hundreds of residencies, workshops and clinics for students of all ages. He has been inducted to the Nebraska Music Hall of Fame and has received the Excellence in Education award by the Governor of Nebraska. Joey has traveled extensively including all 50 of the United States. Just this past year, Joey was drumming in Austria and Switzerland, performed on the annual Gulizia Brothers Jazz Cruise to Alaska and the Caribbean, and he once again toured with the Mannheim Steamroller.
Tony Gulizia (keyboard and vocals) began his music career at the age of 8, working with his father, and, later, with Joey, his brother. Tony studied music at the University of Nebraska-Omaha. It was there the Gulizia Brothers were formed. In 1979, the talented musical duo began working, in conjunction with the Nebraska Arts Council, in the Artists in Schools program. By 1990, their involvement in music programs for youth had escalated to leadership in the Mid-America Arts Alliance, involving themselves increasingly in Artist in Schools programs spanning a 7-state region.
Keri Chryst (vocalist) is international performer and educator, currently living and working in Paris, France – by way of Chicago, where she studied jazz at Northwestern University. Her spunky, authentic "in the pocket" swing, soulful groove, together with an instrumental approach to singing and improvisation, have charmed audiences across the Western Hemisphere and fast earned her a reputation as a musician's singer.
Sponsors of the Festival and Artist in Residence include:
Hastings College Music
Hastings Public Schools Foundation
Hastings Public Schools Music Department
Wal-Mart of Hastings
Hastings Community Arts Council
First Presbyterian Church of Hastings
Hastings Convention and Visitors Bureau
Hastings Community Foundation
Hastings High School Band Boosters
Arts Embassy International
Yanda's Music and Randy Mendyk
Steve Jacobi and Midwest Mountain Keys
Five Points Bank of Hastings
Hastings Symphony Orchestra
Wells Fargo Bank of Hastings
Conn-Selmer Music Inc.
Dansr Music Inc. & Denis Wick
Cal Johnson
Chris Schukei & Colleen Williams
Lafe Anderson
Ricky & Becky Matticks
Also thank you to Bruce Batterson and Roger Schukei for sound support!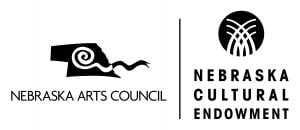 With the support of the Nebraska Arts Council and the Nebraska Cultural Endowment.