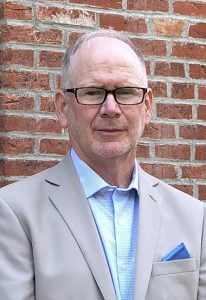 Dr. Rich Lloyd '85 is President of Hastings College.
Lloyd assumed this role on September 1, 2020, while remaining president of Bryan College of Health Sciences, a position he has held since 2016. Read the announcement here.
A 1985 graduate of Hastings College, Lloyd served the college two decades as an English professor, vice-president of academic affairs and vice-president of college initiatives overseeing enrollment, financial aid and marketing. During this time, he received the Vondrak Outstanding Student Advisor Award, was named conference men's tennis coach of the year six times, received the Outstanding Faculty Member Award twice from the Alpha Chi Academic Honorary Society and was twice named an Artist Lecture Series Invited Faculty Lecturer.
A Hastings native, Lloyd received a bachelor of arts degrees in English and political science from Hastings College in 1985, a master's degree in English from Emporia State University in Kansas in 1987 and a doctorate in English from the University of Nebraska–Lincoln in 1995.