Hastings College is located on 120 beautifully landscaped acres in Hastings, Nebraska, a progressive community of 25,000 residents in South Central Nebraska. 
We're about 15 minutes south of I-80 on Highway 281 (Exit 312), which is about 2.5 hours west of Omaha, 6 hours east of Denver and 5 hours northwest of Kansas City.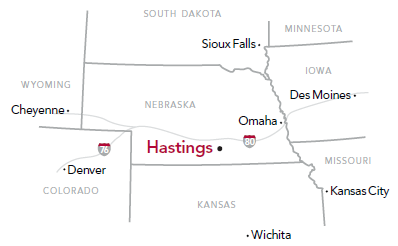 Our physical address:
Hastings College
710 N. Turner Ave.
Hastings, NE 68901
General phone: 402.463.2402
Admissions phone: 402.461.7315
You may also get directions via a Google map or your iOS device.
Directions from Interstate 80
From I-80, take Exit 312 and go south on Highway 281 for approximately 16 miles. Turn left (east) onto West 7th St. and stay on 7th St. for about one mile to North Turner Ave. on your left.
Directions from South Highway 281
Take Highway 281 north into Hastings, turning right (east) onto West J St. Continue on J St. for one-half mile, turning left (north) onto Burlington Ave.  Continue north on Burlington Ave. for one and one-half miles, then turn right (east) onto West 7th St. Continue on 7th St. for about one mile to North Turner Ave. on your left.
Airports / Train
Airports near Hastings include: Grand Island (GRI), 40 minutes; Lincoln (LNK), 90 minutes; Omaha (OMA), 150 minutes.
Train: Amtrak's California Zephyr stops in downtown Hastings (link to station). The Zephyr runs between Chicago, Illinois; Denver, Colorado; and San Francisco, California.
1) Hurley-McDonald Hall – Admissions Office
3) Kiewit Physical Education Building
4) 706 E. 7th St. Residence
5) 710 E. 7th St. Residence
6) 714 E. 7th St. Residence
7) President's Residence
8) Morrison-Reeves Science Center 
9) Daugherty Center
10) Calvin H. French Memorial Chapel 
11) The Stone Health Center 
12) Babcock Hall Women's Residence
13) Taylor Hall Women's Residence
14) Wilson Mathematics & Computer Science Center
15) McCormick Hall
16) Scott Studio Theatre
17) Altman Hall Co-ed Residence Hall
18) Batchelder General Services
19) 846 N. Ash Ave. – Campus Safety
20) Bronc Hall Men's Residence
21) Steinhart Plaza
22) 905 N. Elm Ave. Residence
23) MacKay House
24) Hazelrigg Student Union
25) Gray Center for Communication Arts
26) Jackson Dinsdale Art Center
27) Hayes M. Fuhr Hall of Music
28) Weyer Hall Men's Residence
29) 1018 Pine Knoll Rd. Residence
30) Lynn Farrell Arena/Fleharty Educational Center
31) Lloyd Wilson Field/Stadium
32) Track and Field Complex
33) Barrett Alumni Center
34) Bronco Village Apartments
35) Physical Fitness Facility
36) Doris Becker Tennis Facility