Always New and Exciting Flavors
We know there's no one kind of student. That's why there's no one kind of dining experience at Hastings College. From types of food to multiple meal plans to on-the-go options, our food selection was designed with you in mind.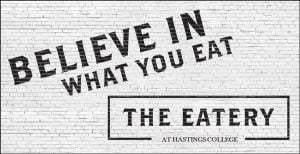 Need a cup of Starbucks or something to go? The Bronco Blend coffee shop located in Hazelrigg Student Union (HSU) is a great place to relax, study and meet with friends. 
The Crimson Club, with its fun atmosphere, offers extended  hours and a menu that  changes frequently. 
The Eatery, our main dining space in HSU, includes fresh, healthy food options with weekly promotions and monthly events that spice up your dining experience!
Menus
To view menus and other dining information, visit this website.

The Eatery Dining Hall Hours
Monday-Friday
Breakfast: 7:15 – 10:30 a.m.
Lunch: 11:15 a.m. – 1:45 p.m.
Dinner: 5:45 – 7:45 p.m.
Saturday and Sunday
Brunch: 11:15 a.m. – 1:30 p.m.
Dinner: 5:45 – 7:45 p.m.
Monday-Friday
11:00 a.m. – 2:00 p.m.
4:00 p.m. – 9:00 p.m.
Saturday and Sunday
11:15 a.m. – 1:30 p.m.
5:45 p.m. – 7:45 p.m.
Bronco Blend Coffee Shop Hours
Monday-Friday
7:00 a.m. – 3:30 p.m.
Saturday and Sunday
Closed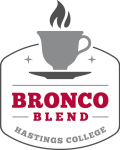 Flex Dining Plan
The Hastings College Dining Flex Plan serves up 16 meals per week and includes $120 Bronco Bucks each semester. This is the ultimate in flexibility, allowing you to dine in the dining hall and use Bronco Bucks in the Crimson Club or Bronco Blend for a change of pace or later at night.
Classic Dining Plan
This is a 19 meal-per-week plan that's always a good choice. It allows you to eat all your meals in the dining hall and includes $30 in Bronco Bucks per semester for use in the Crimson Club and Bronco Blend for you or a guest. You may also add Bronco Bucks in any increment.
Bronco Bundle Plus Plan
This meal plan is available to any commuter student and juniors or seniors living in Bronco Village. It includes 65 meals per semester (4-5 per week), $150 Bronco Bucks each semester and one meal per week may be exchanged for use in the Crimson Club or Bronco Blend.
Bronco Bucks
Anyone with a meal plan can add Bronco Bucks you use like cash in the dining hall, the Crimson Club and Bronco Blend. Bronco Bucks offer convenience and cost savings, allowing you to skip carrying cash and have the option of treating your parents or guest to a meal or cup of Starbucks when they visit. Bronco Bucks can be purchased in any increment — but for every $50 you purchase, you'll get a bonus $5!
Food Selection
Picky eater? Allergies? Trying to stay healthy and avoid the freshman 15? We offer a range of delicious choices to meet all kinds of dietary needs, including vegetarian, vegan, gluten-free and garden-fresh selections. We even have special mealtime occasions that include everything from steak night to rolling your own sushi. Our rotating seasonal menus offer you the best produce available throughout the year — and ensure you don't get sick of seeing the same thing every day.
On-the-Go
There's no need to skip a meal just because you're too busy to eat in the cafeteria during mealtime. Swing by Hazelrigg Student Union and pick up a grab-and-go meal at Crimson Club, dining hall or Bronco Blend.