Hastings College Campus Video Tour
Take a video tour of our fabulous campus!
Each video shows some of what happens in each space. To schedule your personalized tour of campus IRL, go to hastings.edu/visit.
Hurley-McDonald Hall
Perkins Library
Kiewit Building
Morrison-Reeves Science Center
French Chapel
McCormick Hall
Taylor Hall
Babcock Hall
Wilson Center
Scott Studio Theater
Altman Hall
Bronc Hall
Hazelrigg Student Union
Gray Center
Jackson Dinsdale Art Center
Fuhr Hall of Music
Fleharty Educational Center
Lynn Farrell Arena
Lloyd Wilson Field
1. Hurley-McDonald Hall
Hurley-McDonald is the first stop on every Hastings College tour — and rightfully so! It's your one stop shop for any and all things dealing with academic schedules and financial aid.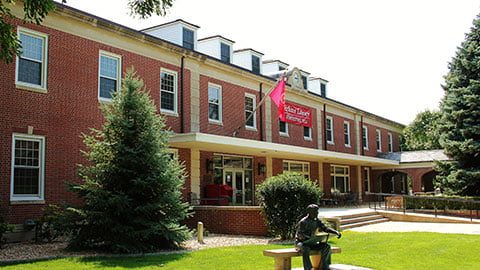 2. Perkins Library
Perkins Library is beloved by students across campus for its educational resources … and free coffee.
The building is the namesake of Edwin Perkins, the man who invented Kool-Aid in Hastings in 1927. In fact, you'll find there's a great study space on the second floor of the building, modeled after the Perkins' living room!
Equipped with all the academic resources you need, a quiet nook, room to work on group projects, and an extensive movie collection, Perkins Library is the perfect place to study… and unwind.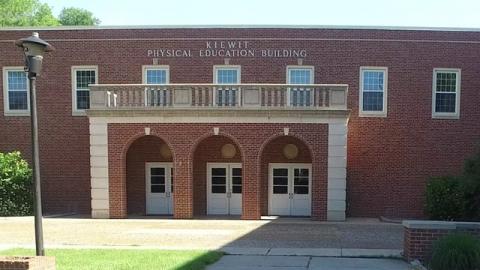 1. Kiewit Building
The Kiewit Building is the perfect place for students to exercise their bodies and their communication skills. Home to the Departments of Physical Education and Communication Studies, Kiewit houses a state-of-the-art exercise science lab and classroom spaces for public speaking.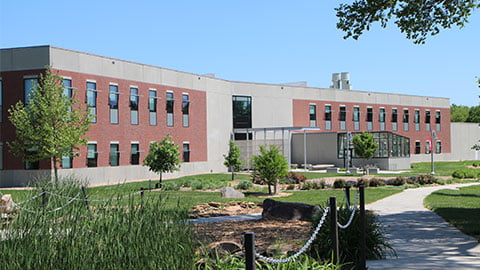 4. Morrison-Reeves Science Center
2. Morrison-Reeves Science Center
The Morrison-Reeves Science Center is the perfect place for a young scientist to earn hands-on experience in their area of interest. From designated lab spaces for biology, chemistry, physics and psychology, to one-on-one mentorships, to high-quality curriculum, Morrison-Reeves can prepare students for any scientific career.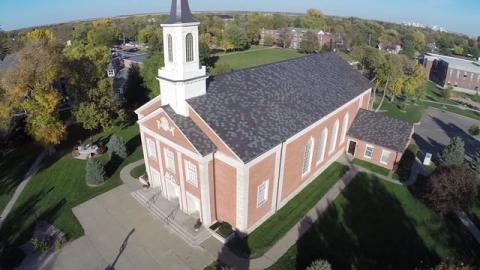 5. French Chapel
The French Memorial Chapel ties Hastings College back to its Presbyterian roots and values. Additionally, this iconic worship hall hosts weekly chapel service, nationally recognized speakers and the annual Honors Convocation, among many other events.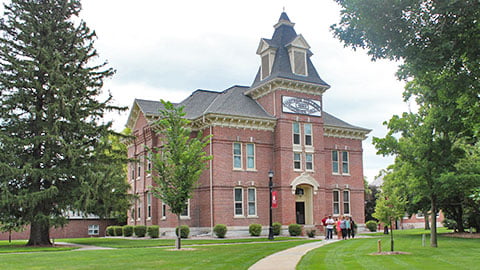 6. McCormick Hall
McCormick Hall was the first building constructed on Hastings College campus. Today, students visit McCormick to focus on the humanities in courses for history, philosophy and languages and literatures.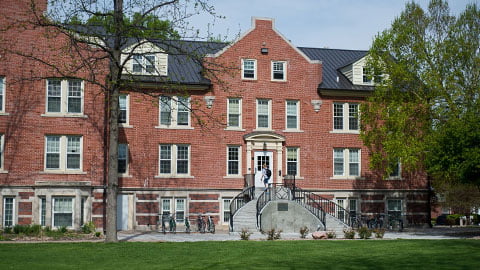 7. Taylor Hall
Rooms in Taylor Hall have an historic touch – appropriate for a residence hall built in 1938. There's no standard room in Taylor, as there's single, double and quad rooms of differing shapes and sizes.
You'll find hardwood floors and dormers creating fun nooks and angled ceilings on third floor. First and second floor rooms may have built-in dressers, closets and mirrors, while some of the garden view rooms are the largest on campus. Every floor has at least one lounge for you to study and be social, and there's exercise equipment downstairs.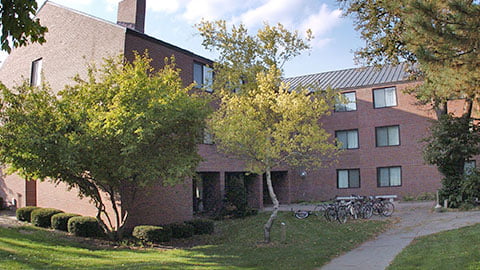 8. Babcock Hall​
Babcock is a three-story residence hall who's residents are very fun, very lively and very active on campus. Rooms in Babcock tend to be a little larger than other dorm rooms on campus. Residents participate in sports, sororities and many other on-campus activities.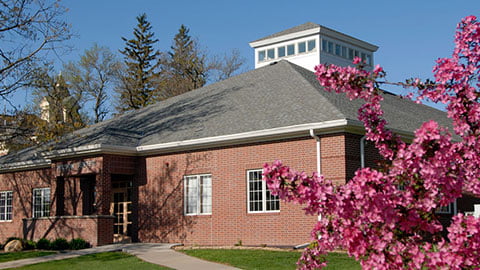 9. The Wilson Center
Challenge your problem solving skills and explore modern technology in the Wilson Center! This building features Hastings College's largest lecture hall, as well as the Department of Mathematics and Computer Science.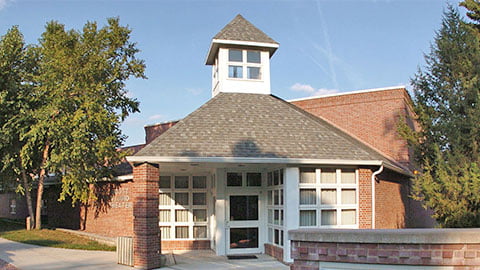 10. Scott Studio Theater
Scott Studio boasts Hastings College's black box theater, a fully customizable performance space for students. From costume design to set construction, the flexibility of the black box theater helps students create a show that's all their own.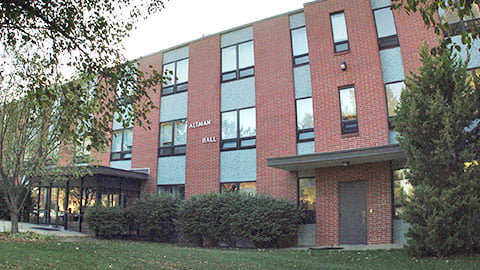 11. Altman Hall
Altman Hall, described by students as the "melting pot" of the campus, includes a kitchen, pool table, and two large lounge areas where students gather and socialize. There's also a sand volleyball court right outside.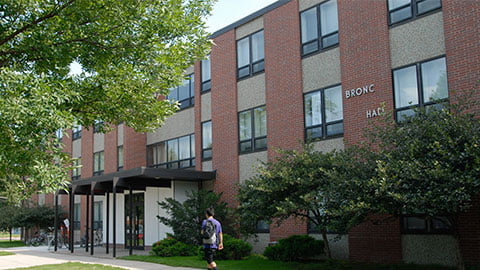 12. Bronc Hall
When you step foot inside this newly renovated, three-story residence hall, you'll instantly become part of the Bronc Hall brotherhood that has a rich tradition. Bronc houses fun, energetic and active men who participate in activities such as sports, music and student government.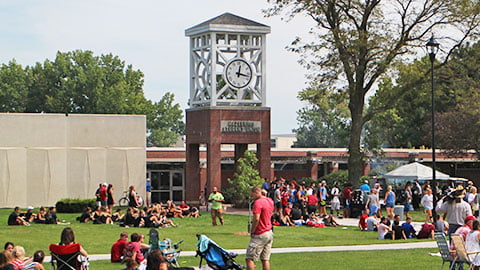 13. Hazelrigg Student Union
13. Hazelrigg Student Union
Situated at the heart of campus, the Hazelrigg Student Union is a hot sport for student services. Here you'll find Career Services, the Bronco Bookstore, the Crimson Club restaurant, the student fitness center and much more!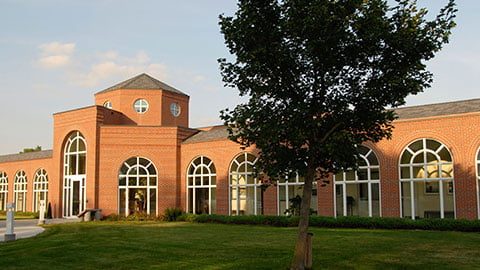 14. Gray Center
The Gray Center has provided a space for students to explore the media arts since its dedication by President Ronald Reagan in 1988. Within its walls, you'll have access to two Mac labs, a television and photography studio and high-quality video and photography equipment that can be checked out by students!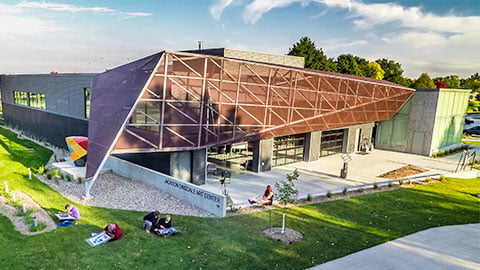 15. Jackson Dinsdale Art Center
15. Jackson Dinsdale Art Center
Thanks to the generous legacy leadership gift left by the late Jackson Dinsdale, Hastings College students can explore creative expression in the state-of-the-art Jackson Dinsdale Art Center. Complete with private student studios and two full galleries, this building has everything an aspiring artist needs to develop their skills!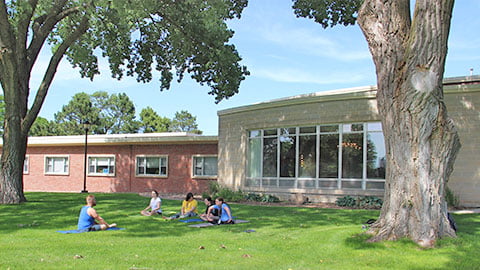 16. Fuhr Hall of Music
Fuhr Hall is the home of the Hastings College Department of Music. Filled with musical ensembles, private practice rooms and talented professors, Fuhr Hall is the place for melody, rhythm and musical entertainment.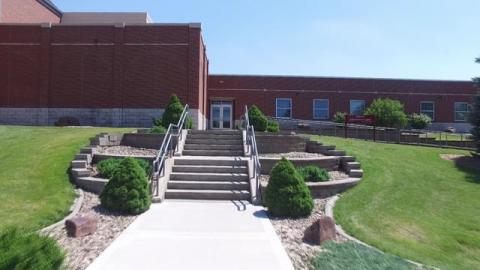 17. Fleharty Educational Center
17. Fleharty Educational Center
The Fleharty Educational Center houses the offices for the Hastings College Department of Business and Economics. Equipped with modern technology in each classroom and special internship programs like the Hastings College Talent Pool, this building offers ample opportunity for hands-on learning.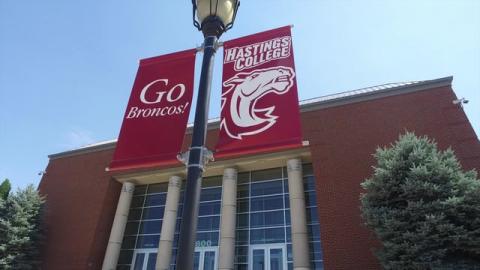 18. Lynn Farrell Arena
Named in honor of the legendary former men's basketball coach, Lynn Farrell Arena is the home of the Bronco men's and women's basketball and women's volleyball teams. The top-loading bleachers, full-size court and weight lifting facility are some of the many features of the arena.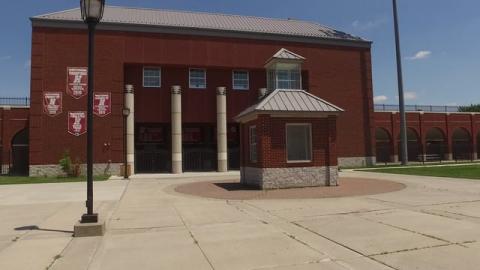 19. Lloyd Wilson Field
The Hastings College football, men's and women's soccer teams showcase their athletic prowess during home games at Lloyd Wilson Field. The stadium-style seating allows up to 3,000 Broncos fans to join in on the action!