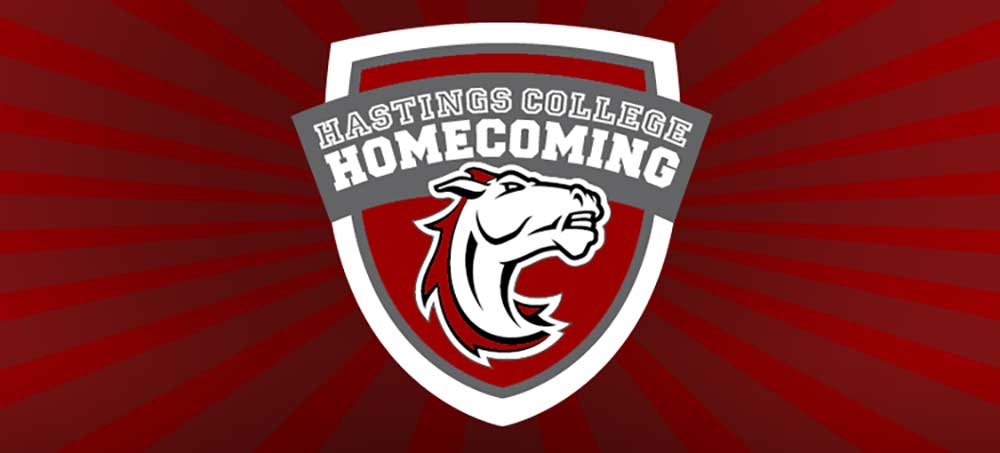 Hastings College Homecoming
Homecoming is September 17-19, 2021, on the Hastings College campus! The Hastings College Alumni Association is looking forward to hosting you this year! Make plans to attend this year's celebratory events, including the Melody Round-Up Parade, Bronco athletic events, the Bronco Barbeque and the All Alumni After-Hours.
Homecoming 2021 Schedule & Registration
12:30 PM – Gridiron Club Golf Classic
Elks Country Club
11:30 AM – Registration
12:30 PM – Tee Off
$100/Person – Includes golf, cart, lunch and drink ticket
Proceeds support Bronco Athletics
4:00 – 7:00 PM – Celebrate Hastings College After Hours
Jackson Dinsdale Art Center
Join us for a celebration with our extended HC family, including current and retired faculty and staff, the Hastings Community and the Chamber of Commerce. Enjoy giveaways, food and refreshments.
8:30 AM – Bronco Campus 5k Run/Walk
Start and Finish at the Barrett Family Alumni Center
The perfect way to begin a day of campus festivities! The Bronco Campus 5k will give you the best opportunity to see our beautiful campus and Heartwell Park.
9:00 AM – Go Broncos Visit Day
Daugherty Center for Student Engagement
High school students and families are welcome to join us for a continental breakfast in the Daugherty Center. We'll share details about what makes Hastings College the best choice for today's student, provide a campus tour and transport you to the Melody Round-Up Parade where you'll receive VIP seating! After the parade, you'll be our guest at the Bronco Barbeque.
10:30 AM – 70th Annual Melody Round-Up Parade
Downtown Hastings
The Melody Round-Up Parade is a true tradition, featuring area high school bands, antique cars, the 2021 Homecoming Royalty and the Hastings College Marching Broncos Band.
11:15 AM – 1:00 PM – Bronco Barbecue
Gray Center/Jackson Dinsdale Art Center Parking Lot
$10/adult,  $8/child 5-12,  FREE/children 4 and under
Join Executive President Dr. Rich Lloyd and his spouse Monica as you enjoy  some barbecue before the Bronco football game. There are activities for children – and it's always fun to follow the Marching Bronco Band as it leads the crowd to Lloyd Wilson Stadium. You'll have a chance to meet with friends, and retired and current faculty and staff members.
1:00 PM – Football vs. Jamestown
Osborne Family Sports Complex – Lloyd Wilson Field
Cheer on the Bronco Football team during the Homecoming game. Enjoy the Bronco Marching Band, Crimson Spirit Dance Team and Bronco Cheerleaders. The Bronco Spirit Shop will be on location at the stadium.
Immediately following the game – Postgame Party
Barrett Family Alumni Center
All are welcome to join the Alumni Association and Foundation for appetizers and beverages
3:00 PM – Volleyball vs. Concordia University
Osborne Family Sports Complex – Lynn Farrell Arena
5:00 PM – Athletic Hall of Fame Induction Banquet
Kiewit Gymnasium
5:00 PM – Social / 5:30 PM – Banquet and Induction
$30/person
Established in 1989 the Athletic Hall of Fame preserved the memory of athletes, teams, coaches and those who have contributed meritorious service to Hastings College and it's athletic programs.
5:30 PM – Women's Soccer vs. Dakota Wesleyan
Osborne Family Sports Complex – Lloyd Wilson Field
7:00 PM – All Alumni After Hours
Murphy's Wagon Wheel (107 N Lincoln Ave.)
Whatever you call it, "Murph's," "The Wagon Wheel," "Murphy's" or "The Wheel," all alumni and friends are invited to the iconic Murphy's Wagon Wheel for special Homecoming eats and drink specials.
7:00- 10 PM – Rock N' Shop Block Party – Downtown Concert
Block by Art Bar (647 W 2nd Street)
Hastings College is pleased to partner with Pacha Soap, Art Bar and Cameron Downtown for a downtown Hastings block party. Shop local vendors while listening to local performers and indie rock band, Sarah and the Sundays.
For complete information, click here and RSVP for the Facebook event.
8:00 PM – Honored Class Reunions
1 Year Class Reunion (2020) – Steeple Brewing
10 Year Class Reunion (2010, 2011) – Reno
25 Year Class Reunion (1995, 1996) – Murphy's
40 Year Class Reunion  (1980, 1981) – Barrett Alumni Center
8:00 PM – Men's Soccer vs. Dakota Wesleyan
Osborne Family Sports Complex – Lloyd Wilson Field
10:30 AM – Hastings College Sunday
First Presbyterian Church
A wonderful endnote for the celebratory weekend, Hastings College keeps its Presbyterian roots string with its traditional Hastings College Sunday service.
11:30 AM – Fine Arts Hall of Fame Brunch
Jackson Dinsdale Art Center
11:30 AM – Brunch / 12:30 PM – Induction
$12/person
Join the Fine Arts departments and the Alumni Association in celebration of our remarkable Fine Arts graduates! This event recognizes alumni that are making a difference in their communities through their talents. This year's honorees include Jill Erickson '95 for Theatre, George Lundeen '71 for Art and Robin Koozer '76 for Music.
Questions?
Contact Molly (Reynolds) Johnsen '94, Assistant Director of Alumni Relations & Campus Events, at mjohnsen@hastings.edu.
Maps
For a map of campus and directions, go to hastings.edu/maps.
Lodging
Review your options to stay in Hastings by clicking here and consider booking your rooms soon!