Membership in the Pro Rege Society is the highest non-academic recognition Hastings College bestows. Criteria for selection may include, but is not limited to, extraordinary service to Hastings College, significant philanthropic contributions and/or unusual commitment to the College over an extended period of time.
Those selected are individuals who have "led by example, led principled lives and/or accomplished creative and innovative achievements favorable to Hastings College."
Honorees are presented a Pro Rege medallion, which was designed by renowned sculptor George Lundeen '71. Inscribed with the College's official motto, "Pro Rege" and "Humanities, Arts, Sciences," the medallion is similar in design to that which is worn by the College president at official functions. The President's Medallion was designed in 1986 by Lundeen.
The Pro Rege Society was established in 1997. "Pro Rege" is a Latin phrase meaning "For the King."
2023 Inductees and Event Information
Hastings College will induct three outstanding individuals and one local business into the Pro Rege Society on Thursday, April 20.
John Bohmfalk
Sharon Behl Brooks '74
Robert Unger
Industrial-Irrigation Services
The ceremony will be held at Lochland Country Club in Hastings and will feature a musical tribute by the Department of Music and Theatre. The Reception begins at 6:00 p.m. with dinner and the ceremony beginning at 7:00 p.m. Tickets are $125 each, or a table of eight is $950.
You can also honor inductees with a gift to an area that is special to them.
Bohmfalk's focus is the Student Development Fund, as he believes all students should have access to opportunities to grow. The fund provides up to $500 for students conducting academic research and/or traveling to regional or national student meetings and conferences.
Behl Brooks' area is the Irish Fellows program. Having benefited from study overseas, she loves this month-long study abroad program that allows Hastings College juniors and seniors to complete coursework and conduct independent research in County Clare, Ireland.
Unger's focus is the Summer Research Grants fund. He is passionate about making Hastings College a great place to work for faculty, and this program is an investment in faculty who want to pursue research in their area of expertise.
Industrial-Irrigation Services, in honor of the company's long-time president and Hastings College Athletic Hall of Fame member, is focusing on the Jack Osborne Track Resurfacing project.
More information on the inductees can be found in the news release.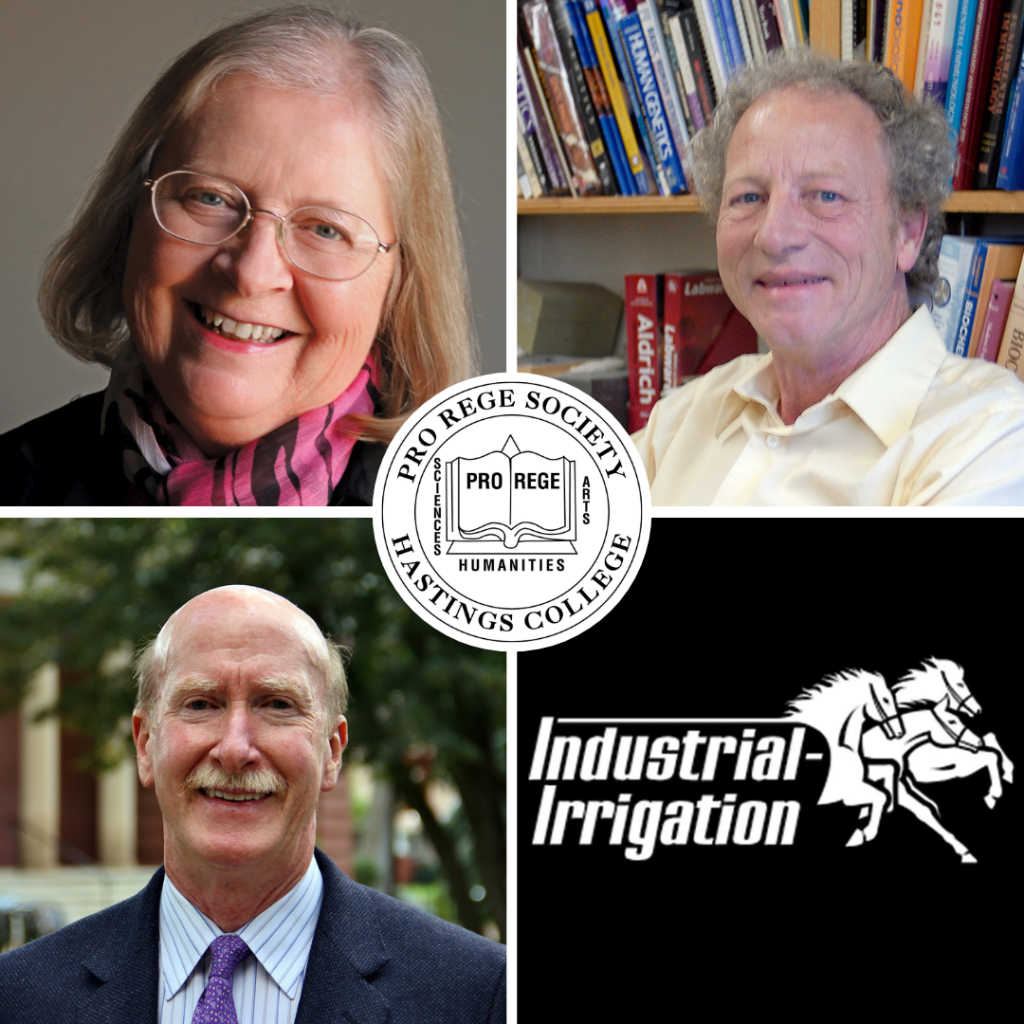 Members of the Pro Rege Society
2022
Anne (Fairbanks) Bohlke*
Bruce Gulliver '70
Five Points Bank
2019
Gretchen Vondrak
The Noel Cover Foundation
MarySue (Hormel) Harris '63
2018
Jack K. Kramer '70
Dwayne S. Strasheim
The Sunderland Foundation
2016
Tim Daugherty*
Lyle Fleharty
William Nottage-Tacey
2015
George Lundeen '71
Fredrick Mattes
2014
Roger Doerr
Dennis Krienert
Gretchen H. Lainson '37*
2013
Cindy and Bobby* Gottsch
Dr. Ladd Cochrane '58
Pepsi Cola Bottling of Hastings
2012
Thomas C. Jorgenson*
Dr. William Locke
Jo Ann Klemmer*
2011
Dr. Phillip Dudley Jr.
2010
Kenneth Rhodus
Peter Kiewit Sons', Inc.
2009
Charles Gardner
Fred Hawkins, Jr.
2008
Clayton Anderson
2007
Armstrong McDonald Foundation
Charles Hermes
John "Jack" Osborne*
2006
Charles Evans*
Calvin Johnson
Dennis Storer
2005
William Barrett*
Robert Foote*
Sarah Leer*
Darrel Lloyd*
James Walter, Sr.*
2004
Leonard (Lynn) Farrell
Duane (Bear) Johnson
Robert Julian
Glenda Pauley*
2003
Lloyd Jones*
Clyde Sachtleben
Leota Tyner
John Yost*
2002
Wayne Goettsche
Lawrence James*
Grace Riley Leinart*
Doris Morhart*
Robert Schalock
Charles Uerling, Jr.*
2001
Gilbert Adrian*
Elinore Barber*
Gerald Holcomb*
Jerrold Kerr*
2000
Helen Barrett*
Robert Gray*
O.J. McDougal*
Thomas Osborne
Carl Throckmorton*
Richard Tickler*
1999
Virginia Belknap*
Candace Lambie*
Donald Lambie*
Arthur Langvardt*
Kenneth Morrison*
Richard Spelts*
LeRoy Thom*
1998
Anne Batchelder*
Robert Daugherty*
Thomas Reeves*
Walter Scott, Jr.*
Willis Strauss*
1997
Thomas Creigh, Jr.*
Marvin Fink*
B. Keith Heuermann
Silas Kessler*
Harry (Hal) Lainson*
Betty Menke*
Irene Moerer*
Harrold (Hal) Shiffler*
D. Lloyd Wilson*
*Denotes deceased