In addition to chapel and other opportunities provided for students, there are student-led organizations that allow participants to minister to one another, develop leadership skills, discover their calling and live their faith.
Contact Chaplain Damen Heitmann (see below) if you have questions about any of these groups.

A.C.T – A Catholic Thing
Chapel Band
F.C.A. – Fellowship of Christian Athletes
Revive
Alpha Omega Sorority
Beta Chi Fraternity
CRU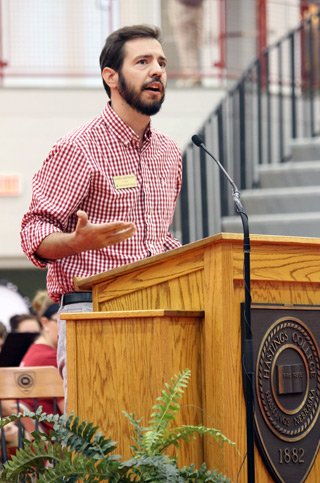 Salutations!
At the Hastings College Chapel we ask questions and seek meaning. The college experience affords an individual tremendous opportunity for growth academically, physically, personally and also spiritually. The purpose of the Chaplain's office is to be a resource to students.
We seek to journey with students and help them form and sometimes find the answers to life's most persistent questions. Such as, "Where do I fit in the universe?", "Do I have a purpose?", "How should I live?", "What truly matters?" and roughly 1,000 other questions that pop up from time to time.
Towards that end we host weekly chapel worship every Wednesday at 10am. The ecumenical services are rooted in the Christian faith and feature a variety of worship styles and elements. Students, via the Chapel Committee, help to create and form the worship experience and frequently have the opportunity to lead worship as well.
Knowing, however, that we do not live our faith in chapel alone, the Chaplain's Office also sponsors retreats, Bible Study, open discussion opportunities, hymn and sermon contests, and service trips throughout the year.
The goal of the Chaplain's Office is to meet students where they are and travel with them as they explore and consider who God is calling them to be.
Peace and all good,
Rev. Damen Heitmann
Hastings College Chaplain
dheitmann@hastings.edu
402.461.7769