In addition to chapel and other opportunities provided for students, there are student-led organizations that allow participants to minister to one another, develop leadership skills, discover their calling and live their faith.
BroncoCatholic

F.C.A. – Fellowship of Christian Athletes

Alpha Omega Sorority

Beta Chi Fraternity
CRU
Seeking Understanding: An Interfaith Learning Community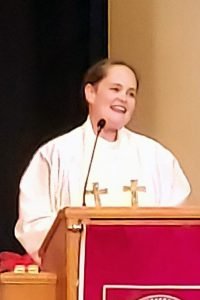 At Hastings College, we are committed to shaping the best human beings possible. That means not only an education for our minds, but finding a place for our hearts to feel at home. Hopefully one place that you might find that welcome is in the Chaplain's Office!
We will have several activities and worship opportunities that are open to all students:
Weekly Worship —Each Friday, I'll email a brief worship service on our YouTube channel. This service includes prayer, scripture and reflection.
First Wednesday Worship — On the First Wednesday of the month, worship will be in French Memorial Chapel and will also be streamed via Hastings College YouTube channel. (Check the calendar for times.)
Occasional lunch and evening discussions about current events, pop culture and other pressing issues. Check the full campus calendar for details.
Office Hours — The Chaplain's office is open for office hours on Mondays, Wednesday, Thursdays, and Fridays from 10:00-11:30 and by appointment.
Our faith journey is just that — a journey…not a destination where we must have answers and certainty.
My prayer is that in the chaplain's office you'll find the freedom and courage to ask questions, find
community, laugh loudly, play games and enjoy the beautiful people that gather together. Everyone is
welcome here.
Please don't hesitate to reach out:
Rev. Doodle Harris
Hastings College Chaplain
doodle.harris@hastings.edu
---
About Rev. Doodle Harris
Doodle has served Presbyterian and Lutheran Churches since earning her MDiv from Pittsburgh Theological Seminary and being ordained as a minister in 2008.  She also has a BA in Music Performance from Presbyterian College and a MM in Music Theory from the University of South Carolina.  When not working, she can be found reading, playing board games and planning her next trip to Disney World! She lives in Hastings with her wife, Amanda, her twins, and her obnoxious dog, Lorelai.