Hastings College agribusiness graduates are building careers in Fortune 500 companies, cooperatives, implement dealers, renewable energy companies, genetics companies and more, including operating their own business. You'll find grads serving in a variety of positions — sales, marketing, grain merchandising, agronomy and more — but with agriculture being involved in 1 out of every 4 jobs in Nebraska and 1 out of 5 nationally, career options abound!
A partnership benefiting you
Our agribusiness program involves a major in Business Administration and minor in AgriBusiness at Hastings College, plus a great partnership between Hastings College and Central Community College in Hastings. You'll receive the tools necessary to equip you for the decision-making processes and framework of business administration and entrepreneurship at Hastings College, while CCC provides you with the latest in the technical aspects of agriculture and food production.
Broad view, local ties
The liberal arts aspect of Hastings College gives a broad view of the world, helping you understand current issues facing farmers, ranchers, food producers and agribusinesses. Certainly, this is an advantage when it comes to employment opportunities!
Because the Hastings-area's economy is rooted in agriculture, we provide leads to numerous internships and career opportunities, whether your interests are in farm management, crop and livestock production, marketing and sales, management, accounting, natural resource management or international trade.
Go further with a Hastings education
Most Hastings students complete their degree in four years, and you'll work closely with your advisor to chart a course in your major. Study abroad, do a service project or lead a club—there's time, support and a plan for everything.
Create your own future
See for yourself how we tailor your education to your talents and your goals.
Schedule a visit and we'll demonstrate how Hastings can help you get where you want to go.
Graduate with experience
At Hastings, agribusiness students serve one and sometimes two internships, including one through our exclusive Talent Pool program. Some expand their understanding of the world by studying abroad. Many take advantage of our two-week blocks to gather additional experiences and insight that help advance career options. What does all this mean? You'll graduate from Hastings ready to succeed.
At every step in your path you'll appreciate the stepping stones of teaching, counseling, inspiring, supporting and guiding from our engaged faculty. It's an experience that's true to Hastings College and you won't find it anywhere else.
Add expertise to your agribusiness degree
Many of our majors pursue additional study in these areas:
Economics

Human resource management

Marketing
Get involved beyond the classroom
Professional Business Leader's Club
Omicron Delta Kappa (Leadership honor society)
In addition to these business-related groups, there's always something to do at Hastings. Student clubs, service learning, Greek life, recreation and more make Hastings a great campus for student life.
Find scholarships for agribusiness
Your high school achievements can both fuel and fund your success at Hastings. We offer a range of generous and renewable academic scholarships based on your GPA and test scores. If you decide to pursue a business-related major, you can apply for the T-L Irrigation/Thom Business Scholarship. Plus talent scholarships for everything from speech (forensics) to the arts to athletics.
Agribusiness grad employers
You'll find recent Hastings College graduates building careers in agribusiness at places like:
AgReliant Genetics
Union Pacific
Tallgrass Energy
Aurora Cooperative
DuPont Pioneer
John Deere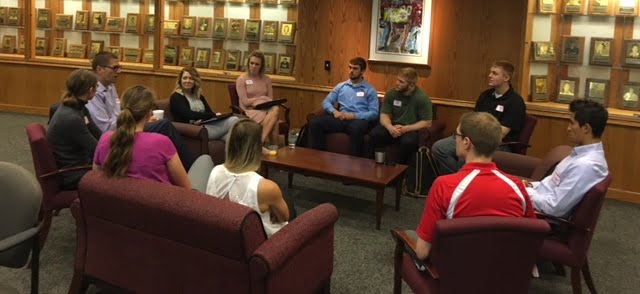 Talent Pool offers mentoring, internships
When business students jump into the Talent Pool, they are supported by local business and nonprofit leaders —including HC alumni—who serve as mentors and provide meaningful internships. This difference-making program is sponsored,…

Ballou driven to serve rural America
"With my roots grounded in a small farm community in southwest Nebraska, I am driven by a passion to serve rural America," said Brooke Ballou, a Wilsonville, Neb., native studying Agribusiness and Marketing…