Emily Wiegert, an agribusiness major with minors in accounting and economics, combined her study areas to find success at her summer internship. The Hastings College senior utilized her skills as an accountant intern for the agronomy department for Cooperatives Producers, Inc. (CPI) in Hastings, Nebraska.
CPI is a farmer-owned cooperative with more than 400 employees and operations in 30 communities. It offers a wide range of products and services in agronomy, energy, feed and grain divisions.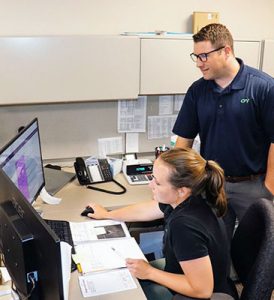 Wiegert focuses much of her time using the company's inventory tracking system to invoice every product at the customer's price. She keeps track of each amount separately because it could be different based on the salesperson who originally sold the product to the customer.
Her biggest summer project was wrapping up invoices for the fiscal year that ended on July 1— she was in charge of making sure everything was correct and up-to-date.
As a part of her internship, Wiegert said she had the honor to tour the new dry fertilizer facility in Hastings. CPI's previous dry fertilizer plant, which was only a couple months old at the time, burned down in May 2019 after being struck by lightning.
After the fire, CPI had quickly taken the initiative to start building a new one and completed the new plant in just over a year. The new plant is one of the largest in the nation, with more than 42,000 tons of storage space.
"It was inspirational to see what they did in a year and how amazing the new facility is. It will be perfect for the business," she said.
In the fall semester of her junior year, Wiegert reached out to Kim Graviette, Hastings College's director of vocation and career services, who helped her connect with CPI. She was interviewed for the job in October 2019 and began her internship in April 2020.
A lot of the coursework Wiegert completed during her time at Hastings College career applied to her internship.
Besides coursework, she also participated in professional development days the College's Department of Business and Economics holds.
"I took in everything I've learned from professional development days and alumni panels at Hastings College and relayed it to my experience to prepare myself for my internship," she said.
On-campus, Wiegert volunteers her time with Local-Global, a Hastings College group that focuses on solving hunger and homelessness. She said she enjoys seeing both the Hastings and campus community coming together to care about such a big issue.
By Courtney Hanson, a senior from Brookings, South Dakota, majoring in communication studies and philosophy and religion