The Hastings College Greek community is dedicated to developing future leaders by providing a wealth of leadership opportunities. Greek Life at Hastings College ranges from social and spiritual activities to service and academics. Tomorrow's leaders are gaining their edge from the fraternal experiences offered by Greek Life at Hastings College. Greek membership is one of the best ways to get involved in campus life and make new friendships.
The Hastings College Greek system benefits from a mix of both local and national organizations; Phi Mu Alpha (Sinfonia) and Sigma Alpha Iota are national groups that are linked with music.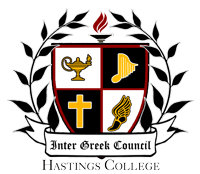 Inter-Greek Council
The Inter-Greek Council is the governing board with a mission to build an inclusive Greek community and enhance the collegiate experience by providing opportunities for leadership growth, academic success, and civic engagement through various Greek-oriented activities and competitions. The IGC oversees the yearlong Greek Cup competition and plans the end of the year all-Greek formal known as the Greek Dinner Dance.
Sororities

Alpha Phi Sigma
Alpha Phi Sigma holds the "key" to excitement and success at Hastings College. These classy ladies are grounded by three building blocks: Goodness, Friendship and Wisdom. You can find Alpha Phis involved in nearly every aspect of campus life. 
 Alpha Delta Alpha
 ADA is a social sorority that is committed to the Hastings College community, doing community service in both the city of Hastings and the campus environment. They are a close family of women  who enjoy spending time with each other no matter if it is through serving the community or  socializing at a formal. 
Alpha Omega
Alpha Omega is more than your typical sorority at Hastings College. This group has taken the benefit of the sorority sisterhood and elevated it to a higher level by grounding its fellowship in Christ. Its mission includes furthering the spiritual growth of members, holding fun social activities and retreats and serving the campus and community through various activities. 
Chi Omega Psi
Chi Omega Psi is a sorority devoted to the foundations of "pleasure, profit and life." Chi Omega Psi promotes fellowship, campus participation and attendance at Hastings College events, especially when promoting the Broncos. While the ladies of Chi Omega Psi welcome women from all areas of interest, they are predominantly populated by the female athletes. 
Kappa Rho Upsilon

Kappa Rho Upsilon was one of the first sororities founded at Hastings College in 1912. They believe in the ideals of sisterhood and empowering women to achieve. Kappa Rhos encourage social, intellectual, and moral growth and pride themselves on academic excellence.  They strive to provide a lasting bond of sisterhood for any woman wishing to join. 

Sigma Alpha Iota
Sigma Alpha Iota is the only national sorority on the Hastings College campus. These young women   have a long standing tradition of music. To be a member of SAI, you must participate in music activities on campus. Since SAI is a national group, women are allowed to rush both a local group and Sigma Alpha Iota. More »
Fraternities

Beta Chi
Beta Chi's focus is on building a strong Christian brotherhood. Past achievements include winning the Greek Cup and participating in fall and spring service trips.Their most notable service trip is held during Spring Break where the group travels to U.S. destinations. Past service trips have traveled to Joplin, Missouri, and destinations in Colorado.
Kappa Alpha Order 
Our first NIC national fraternity at Hastings College, Kappa Alpha Order seeks to create a lifetime experience which centers on reverence to God, duty, honor, character and gentlemanly conduct.
Eta Phi Lambda
Eta Phi Lambda's main goal is to promote and cultivate leaders on campus. They are active in Greek competitions and organized and social events.

Phi Mu Alpha (Sinfonia)
The men of this national fraternity are grounded in music, however, members do not have to be involved in music to benefit from membership.
How to Join a Fraternity or Sorority
Fraternities and sororities select their members through a recruitment process. This process begins with New Student Days. During this time, groups are allowed to hold various mixers and informational sessions so that new students can learn about which group would be the best fit.
On the week prior to Rush Week, all students interested in rushing a fraternity or sorority will go through Bid Night. On this night, each group is allowed to have one final social to entice membership before bid cards must be turned in and membership solidified. Rush Week follows Bid Night with formal invitations distributed to each member who was chosen by each fraternity and sorority. Phi Mu Alpha and Sigma Alpha Iota hold a different rush based on stipulations from their national chapters.
Contact Beth Simoens, in the Student Engagement Office at bsimoens14@hastings.edu 
or 402.461.7487 for more information.
Hastings College and the Inter-Greek Council policies mandate that the recruitment process be alcohol-free. All students must attend an anti-hazing presentation held in conjunction with Bid Night.