Rooms in Taylor Hall have an historic touch – appropriate for a residence hall built in 1938. There's no standard room in Taylor, as there's single, double and quad rooms of differing shapes and sizes.
Room Sizes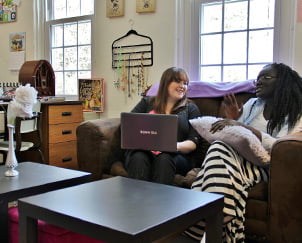 Garden view rooms range from 11'3″ x 15'9″ (177 sq. ft.) to 25'9″ x 23'6″ (605 sq. ft.) and have easy access to laundry and the largest lounge in Taylor.
A typical first floor room is 11'7″ x 15'1″ (174 sq. ft), although some are smaller and others a bit larger.
A typical second floor room is 11'6″ x 15′ (173 sq. ft.), although a few are slightly smaller and a couple are 15'6″ x 13'5″ (208 sq. ft.) or even larger.
Third floor rooms range from 15'8″ x 12'2″ (190 sq. ft) to 14'11" x 18'5″ (275 sq. ft.) and include tons of homey charm.
Taylor Hall, like all dorms on campus, is air conditioned and includes the free use high efficiency washers and dryers (no scrounging for quarters!). You'll also find lounges and common areas with comfy couches and chairs and large-screen TVs for hanging out with friends. There's wifi throughout, access to kitchen space and if you have pressing issues, there are irons and ironing boards on every floor
Taylor accommodates 106 women from all areas of majors and campus involvement. Taylor residents are proud of their diversity and putting their academics first!
A typical two-person room includes:
Extra-long twin beds (36 inches by 80 inches)

Beds can be bunked or left down, or lofted for a small fee

Two dressers
Two desk chairs
Two desks