Hastings College is the perfect place to complete your undergraduate work in preparation for pharmacy school! 
We have multiple pathways, including a Pharmacy Early Assurance Program via our partnership with the University of Nebraska Medical Center (UNMC), another partnership with Creighton University, plus the option to attend pharmacy school anywhere in the country! 
So if pharmacy is your career goal, Hastings College is here to help make it happen!
For pre-pharmacy students, we provide the biology, chemistry, human anatomy and other key coursework that prepares you for pharmacy school and future success. 
At Hastings, you'll appreciate smaller classes and faculty who want you to succeed in these foundational classes. Have we had success? You bet! Every qualified Hastings College student in the last decade who has applied to pharmacy school has been accepted.
Pharmacy Early Assurance Program
Thanks to our exciting partnership with the University of Nebraska Medical Center (UNMC), if you're a high school senior interested in pharmacy, you can apply to Hastings College and UNMC's Early Assurance Program. Selected students will move through an interview process, and if accepted into the program, be assured a slot in UNMC's College of Pharmacy provided you maintain a 3.5 GPA at Hastings College and meet UNMC pre-requisite requirements.
The Hastings Pharmacy Early Assurance Program is open to all students — even students outside Nebraska. There is also no post-graduation requirement for students accepted into the program, making it one of the most flexible early assurance programs out there.
Make connections
One great feature of Pharmacy Early Assurance Program is Hastings College students like you will make connections with one or more practicing pharmacists, and be able to attend UNMC conferences and other programs as an undergrad, plus other on-campus programs for students in the health professions!
In addition to the standard Hastings College application for admissions, which is free, the Pharmacy Early Assurance Program application includes a supplemental pharmacy application and three letters of recommendation.
More details
When accepted into this program, you'll spend three years at Hastings College before moving to UNMC for the pharmacy program, receiving a retroactive bachelor's degree from Hastings College after completion of the first year of the professional program.
You can also stay at Hastings College four years, which may be preferred if you're involved in co-curricular activities such as a sport or fine arts program. Another bonus? You won't have to take the Pharmacy College Admission Test (PCAT)!
A minimum high school GPA of 3.5 is required for the program. While ACT or SAT scores are not required for admission to Hastings College, students are encouraged to submit their test scores on the Pharmacy Early Assurance Program application, with an ACT of 25 or higher or SAT of 1690 or higher being recommended.
Students in the recommended GPA range will likely receive scholarships totalling $20,000 or more per year at Hastings College — plus additional aid, depending on income and FAFSA results.
Two steps to apply
Ready to apply to the Hastings-based Pharmacy Early Assurance Program?
Step One: Apply to Hastings College — it's free! Just click the button below.
Step Two: Apply to the Early Assurance Program via UNMC's app via link below.
NOTE: The deadline to apply is December 1.
Partnerships that make a difference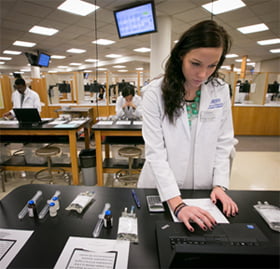 In addition to the Pharmacy Early Assurance Program with UNMC, those interested in pharmacy have options!
As a Hastings College student, you can graduate in four years and attend a pharmacy school anywhere in the country — but our partnership with Creighton University may provide a faster path to your degree and career.
The Creighton partnership gives Hastings College students priority consideration for admission to Creighton's Doctor of Pharmacy program, and reduces by one year the time it takes to earn your pharmacy degree, while also completing your degree at Hastings.
Qualified Hastings College applicants receive other benefits when applying to Creighton's pharmacy program, including:
Guaranteed interview
PCAT waiver
Eligibility to receive one of 10 reserved seats in the incoming pharmacy class (five in the campus pathway and five in the distance pathway)
The campus pathway is on Creighton's campus in Omaha, and the distance pathway allows you to live and work in a smaller community while completing your pharmacy degree. Since smaller communities may have a shortage of pharmacists, the chance to work in this setting is appealing especially if you want to learn from an experienced pharmacist and potentially buy into the business.
Partnerships with other schools are also available. Schedule a visit to learn more.
Go further with a Hastings education
Thanks to our small class sizes (most have fewer than 20 students!), and a student-to-faculty ratio of 15:1, you'll work closely with faculty and your advisor to complete your degree in four years. In fact, most students who graduate from Hastings do so in four years!
Our block-style semester structure means you'll take just one or two classes at a time — which really lets you focus more intently on each class. It also lets faculty devote more time to every student because they're only teaching one or two classes in a block!
See for yourself how we tailor your education to your talents and your goals. Schedule a visit and we'll demonstrate how Hastings will inspire you to reach your potential, or if you're a high school senior, apply today.
At Hastings, students with a goal of pharmacy school often complete an internship. Some expand their understanding of the world by studying abroad. Many take advantage of additional experiences and insight that help advance career options. What does all this mean? You'll graduate from Hastings College ready to succeed — in pharmacy school and life.
Along your path, you'll appreciate the stepping stones of teaching, counseling, inspiring, supporting and guiding from our engaged faculty. It's an experience that's true to Hastings College, and you won't find it anywhere else.
All the extras aren't extra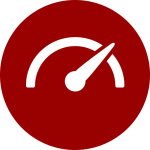 Maximize scholarships — Yes, you'll get an academic scholarship. But you'll also get a "plus one" scholarship from the group, team or area you're part of. It's a great way to help pay for school — but also to find your people.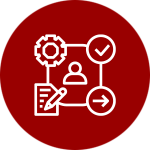 We've thought a lot about the ways students learn and built a four-year plan to help you navigate it all. From finding your place and in Year 1, to showing the world you're ready for what's next four years later.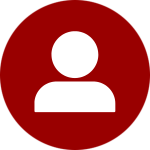 Your transition from college to a career begins your first semester. Every class, internship, research study and activity adds up. We love to celebrate all the ways you shine — your experience matters!
Get involved beyond the classroom
Alpha Chi (Academic honor society)
Beta Beta Beta (Biology honor society)
In addition to these groups, there's always something to do at Hastings. Student clubs, service learning, Greek life, recreation and more make Hastings a great campus for student life.
Find pharmacy scholarships
Your high school achievements can both fuel and fund your success at Hastings. We offer a range of generous and renewable academic scholarships based on your GPA. Plus, we offer talent scholarships for everything from speech (forensics) to the arts to athletics. The result? Every student receives at least $12,000 in scholarships (but most receive more!).