Jessica Schneider '16 and Torey Kranau '16, students who began at Hastings College at the same time, took an exciting step after their third year of undergraduate education when they were accepted into pharmacy schools.
Both enrolled and began working toward their pharmacy degree last fall – in what would have been their senior year at HC – but, thanks to a partnership with the pharmacy schools, both graduated in May with their chemistry degrees from Hastings College. Schneider is enrolled in the Virginia Commonwealth University School of Pharmacy, while Kranau is enrolled in the University of Iowa College of Pharmacy.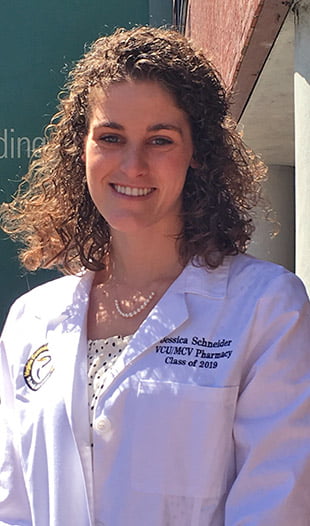 "I feel honored to know that I am one of the few students who only did three years of undergrad and yet do not feel like I would have benefitted from another year in school and working," said Schneider. "The education I got at Hastings was excellent and I would repeat my time there any day!"
As someone who knew she always wanted a career in the health field, Schneider began working at Bert's Pharmacy in Hastings, Nebraska. Soon after she began, she knew pharmacy was the career for her.
"As a pharmacist you get so much interaction with patients and health care providers," she said. "Working together as an inter-professional team with other health care providers really made me realize how perfect this career was for me."
Within the ever-evolving career of pharmacy, Schneider was unsure of where to begin.
"Coming into pharmacy I thought it was only retail, but through my first year in pharmacy school I have learned of the endless opportunities you have in pharmacy school," she said. Being a pharmacist could include retail, but a pharmacist can also conduct research, work in a hospital, owning their own pharmacy, specializing and work with a specific disease state or working for the government.
Right now, Schneider is planning a wedding for June of 2017 with her fiancé. After three more years of school, she plans on starting a career in a community pharmacy. With her fiancé in the military, they plan on moving to Colorado once he is finished, where she hopes to start raising a family. Ideally, Schneider said she would want to work in an independent pharmacy that she could one day own herself.
In addition to a pharmacy degree, Kranau is working toward a Masters of Public Health through a dual degree program the College of Pharmacy and the university's College of Public Health offers.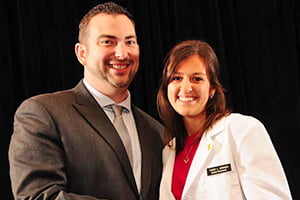 "It amazes me how much of the knowledge I gained carries over into pharmacy," said Kranau. "Not only did the academics help prepare me for my doctorate degree, but the activities and the various opportunities I was fortunate to be part of are a huge asset as well. Communication skills, time management, organization and leadership qualities were all built upon during my time at Hastings College and I am beyond thankful!"
Kranau credits the mathematical problems and equations she learned in her chemistry classes at Hastings College as helping her to better understand her pharmacy classes, as well as the basic biology and chemistry background knowledge she received.
Kranau's interest in pharmacy began in high school, when she first shadowed at a pharmacy. Through high school, she worked at Ron's Pharmacy in Blue Hill, Nebraska and while attending Hastings College, she continued pharmacy work at Keith's Pharmacy.
"Pharmacists have a huge role in patients' medication adherence as well as promoting healthy behaviors," she said. "I want to be someone that my patients can rely on to be honest, compassionate and dependable."
Kranau plans to return to the Hastings area after graduation to practice pharmacy in an outpatient clinic setting or private-retail community setting. She also has plans to settle down with her high school sweetheart and begin raising a family.
By Amanda Miller, a senior from Woodland Park, Colorado majoring in journalism