"The 228," an exhibition by Alyssa Rose Bliven, will show in the main gallery of the Jackson Dinsdale Art Center (JDAC) September 27 through October 28. An artist's lecture and reception for the exhibition will be held October 14 from 4:00 to 6:00 p.m. in the JDAC.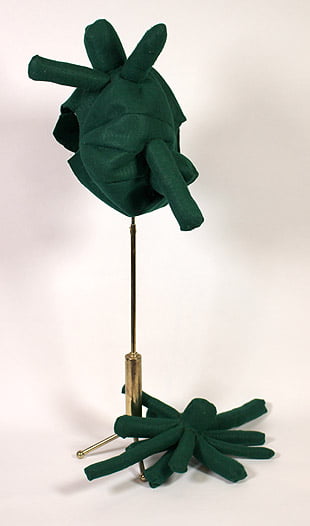 Bliven is a 2014 Hastings College graduate and recent graduate of the metalsmithing program at the Cranbrook Academy of Art. As a self-proclaimed object-maker, she constructs 3D sculptures with a variety of materials.
"I maneuver from one material to the next, from wax to clay, from metal to fabric or leather, and back and forth and so on," Bliven said. "This transformation creates a helpful confusion to the materiality of my work. The confusion in materials takes the viewer to a place where they focus more on the ideas within the objects than the materials they are made of."
A portion of the exhibition showcases Bliven's masters thesis from Cranbrook, "228 Words on Depression." This collection of sculptures addresses the similarities between emotions and knick knacks.
"The focus of the piece was arranging collections, whether they are collections of knick knacks or collection of memories and feelings," Bliven said. twe
The exhibition also features new works by Bliven, including many of her "portrait" sculptures. Most of these works have never been shown before and are making their debut in the JDAC gallery.
Click here for a video interview with Bliven, or read more about her here.
Also opening on September 27 is "Sara(h)." This exhibition features works by Hastings College's new art professors, Sara Gevurtz and Sarah Swist. "Sara(h)" will be shown in the critique gallery directly opposite the main gallery.
Admission to the "The 228" and "Sara(h)" exhibitions is free and open for public viewing anytime while the JDAC gallery is open. Gallery hours are Monday to Friday from 9:00 a.m. to 5:00 p.m., and Saturdays from 9:00 a.m. to 1:00 p.m. Personal tours can be scheduled by calling 402.461.7396.
Hastings College is a private, four-year institution located in Hastings, Nebraska, that focuses on student academic and extracurricular achievement. With 64 majors and 15 pre-professional programs, Hastings College has been named among "Great Schools, Great Prices" by U.S. News & World Report and a "Best in the Midwest" by The Princeton Review. For more, go to hastings.edu.