When Alyssa Rose Bliven '14 first enrolled at Hastings College, she planned to one day become a veterinarian. The future had something else in store for her.
During the 2017 Hastings College Homecoming and Family Weekend, Bliven returns to Hastings as a proud Bronco alumnae. But instead of sharing tales of doctoring animals as a veterinarian, she'll fill the Jackson Dinsdale Art Center gallery with a sculpture collection she created as a master metalsmith.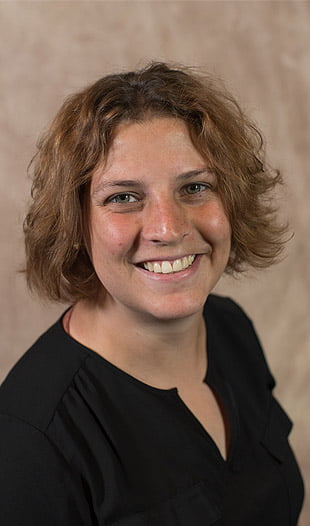 Bliven is a recent graduate of Cranbrook Academy of Art's metalsmithing program. Cranbrook, one of the country's leading graduate schools for art, is home to only 150 graduate students; the metalsmithing program accepts no more than 15 aspiring artists.
"Cranbrook is a tiny school that's super elite," said Turner McGehee, professor of visual arts at Hastings College. "Alyssa is the first HC grad to go there, and I'm really happy she was accepted. I think it was one of the best environments for her to learn in."
Bliven's acceptance into Cranbrook began when she took her first steps toward the art community early in her collegiate career.
"I decided not to become a veterinarian, in part because of my severe allergies to animals," Bliven said. "I tried a couple of other things, but I didn't really think that art was going to be a thing I could do."
Tom Kreager, professor of visual arts and chair of the department, helped guide Bliven to her eventual destination in the Hastings College studio art program. She was accepted with open arms by the faculty there.
Mature young artist
Bliven's switch to art helped her embrace the artist's mindset she already had, Kreager said. She quickly adapted to the studio art curriculum, revealing her maturity as an artist.
"I probably put a chain on her leg when she showed me the work she had done in high school," joked McGehee. "As a high school senior, she was doing artwork that we would have been proud to see from an advanced college student. Her work was independent and beyond what most other students were doing at her age."
Her artistic abilities shined through in her thesis projects. As a junior, her thesis show provided a commentary on "pollution, both mentally and physically," Kreager said. Her senior thesis explored culture by inviting viewers to interact with ceramic pieces displayed in a metal cave she built within the gallery.
Bliven continued to exceed expectations, graduating cum laude with high distinction in studio art. Her undergraduate career culminated in her acceptance to Cranbrook Academy of Art.
Growing with a new medium
Bliven originally intended to enroll in Cranrook's ceramics program; however, the ceramics department forwarded on her information to the metalsmithing department.
Though Bliven was wary to pursue a graduate degree in another medium, the switch to metalsmithing turned out to be a blessing in disguise. Iris Eichenberg, head of the Cranbrook metalsmithing department, was open to letting her students explore mediums outside of metal and jewelry.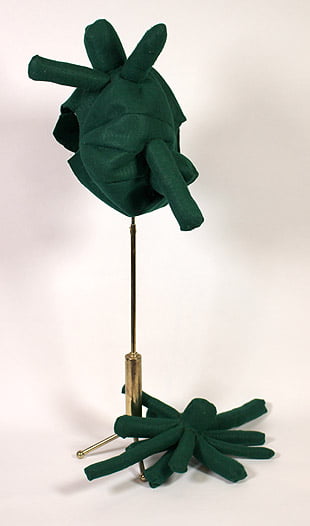 "The starting point for the work within the (metalsmithing) department is a healthy mistrust of the idea that the creation of certain kinds of artistic objects requires the use of specific materials," the department's philosophy statement reads.  
At Cranbrook, Bliven found she could work in her medium of preference while still applying the skills she was learning through the metalsmithing program. Furthermore, she began to relate the mediums she worked in, finding similarities between the materials and methods she used for metalsmithing, ceramics, sewing and wax working.
Bliven spent 40 hours a week in the studio at Cranbrook. She said the curriculum there focused less on teaching the students new skills, and more on refining what they already knew.  
The students developed their "conceptual and technical talents" by interacting with other artists, generating and evaluating new ideas, making original pieces and critiquing each other's' work.
"We had critique once a week, and we would spend all day talking and critiquing two or three students work," Bliven said. "It was really intensive. When we were being critiqued, we weren't allowed to talk; we just had to sit there quietly and listen to all of the feedback."
At the end of the two-year program, each student showcased what they'd learned in the Cranbrook Thesis Exhibition. Bliven's master's thesis, "228 Words on Depression," applied a larger metaphor to the concept of knick knacks.
"My thesis was about knick knacks and the effort that goes into taking care of them," Bliven said. "There's also care that goes into minding your feelings, and the pieces were about my struggle with depression. The focus was on arranging collections, whether they are collections of actual knick knacks or collections of memories and feelings."
Primed for thesis three
Just like her Hastings College theses, Bliven's master's thesis required her to create an exhibition of all new works. She said the master's thesis was reminiscent of her undergraduate experience.
"At Hastings College, I basically did two original thesis shows that were similar in structure to a master's thesis," Bliven said. "Having that helped me realize the work that's required to create brand new work for a show."  
Bliven noted that the master's thesis was the first time organizing a show of all new work for many of her Cranbrook colleagues. Instead of an original thesis show, their undergraduate program finished with a cumulative show, featuring pieces they had made throughout their undergraduate studies.
She said her Hastings College experience set her in front of her classmates; her mentors at Hastings College said that is the intention behind the Hastings College thesis projects
"The thesis projects are what really sets us apart from other schools. It's a much more intense thesis than most schools have because it's all original thought by the student," Kreager said. "The focus of the program is to set our students up for success in graduate school."
Homeward bound
The 2016 Cranbrook graduate was invited back to Hastings College for the alumni exhibition this fall. Running Sept. 27 through Oct. 26 in the JDAC gallery, "The 228" exhibition recreates Bliven's master's thesis and debuts new pieces she's created in the last year.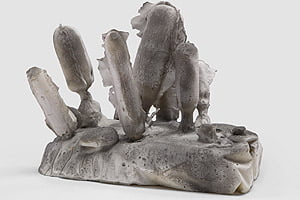 "We don't do very many single shows for the alumni exhibition, but we've invited Alyssa for a solo show because how much faith we have in her," Kreager said. "She's our first student to go to Cranbrook, and it's pretty amazing she's coming back to share that with us."
The alumni show is a chance for Bliven to return to the place of her artistic beginnings. She said she was most excited about reconnecting with her former classmates and mentors, who she referred to has her "Hastings College family."  
The alumni exhibition is also another chance for Bliven to continue growing as an artist.  
"I've never had a true solo show before, and I've never shown in a space as large as the JDAC gallery," Bliven said. "But I've always been of the mindset that you can make anything, as long as you put your mind to it."
By Mallory Gruben, a senior from Eckley, Colorado, majoring in journalism