Hastings College and Creighton University have formed a partnership that gives Hastings College students priority consideration for admission to Creighton's Doctor of Pharmacy program and reduces by one year the time it will take students to earn their degree.
The agreement includes a guaranteed number of slots in both of Creighton's pharmacy pathways: traditional on-campus in Omaha and distance, which combines distance learning with shorter on-campus sessions. Enrollment in the program begins with the 2018 incoming class.
---
For more on pharmacy at Hastings College, click here.
---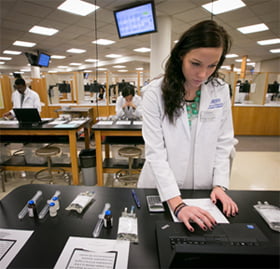 "We've had great success in preparing students for graduate work in pharmacy, and by partnering with Creighton we can enhance our success in this area and provide our students with more options and, potentially, a faster route to their career," said Hastings College Provost Dr. Gary Johnson. "Creighton's distance pathway is also appealing, as it allows students to live and work in a smaller community while completing their pharmacy degree."
Smaller communities may have a shortage of pharmacists, so the chance to work in this setting is particularly appealing to students who want to learn from an experienced pharmacist and potentially buy into the business over time.
"Creighton looks forward to further extending what is already a great health sciences partnership with our colleagues at Hastings College," said Dr. J. Chris Bradberry, Dean of Creighton's School of Pharmacy and Health Professions. "With a growing need for pharmacy practitioners, especially in the rural areas of our state and nation, we are pleased to join with Hastings College in extending the Creighton tradition of molding quality, compassionate professionals who are practice ready and eager to serve."
As part of the agreement, qualified Hastings College applicants when applying to the Doctor of Pharmacy program from Creighton's School of Pharmacy and Health Professions (SPAHP) receive:
A guaranteed interview,
PCAT waiver, and
Eligibility to receive one of 10 reserved seats in the incoming pharmacy class — five in the campus pathway and five in the distance pathway.
To enroll, Hastings College students must have a minimum of 90 semester credit hours by June 1 of the year they intend to enroll, and meet all pre-pharmacy requirements. This will typically be after a student's junior year at Hastings College — allowing the student to begin the pharmacy program in what would have been their senior year at Hastings.
After successfully completing their first year of Creighton's Doctor of Pharmacy program, the Creighton credits will transfer back to Hastings College, which will then award the students their Bachelor of Arts degree, provided they have completed all Hastings' requirements.
This is the second partnership agreement between the Creighton and Hastings College. In April 2016, Hastings College, the Creighton University College of Nursing and Mary Lanning Healthcare launched a successful 3+1 nursing program.
Hastings College is a private, four-year institution located in Hastings, Nebraska, that focuses on student academic and extracurricular achievement. With more than 60 majors and 15 pre-professional programs, Hastings College has been named among "Great Schools, Great Prices" by U.S. News & World Report and a "Best in the Midwest" by The Princeton Review. For more, go to hastings.edu.