As chief data officer at the Nebraska Department of Economic Development, Jennifer Zarek '15 works behind the scenes, crunching numbers and analyzing data, to boost her home state and ensure Nebraska continues to offer the good life.
"I believe in the mission of the department and find my work meaningful because I want to see Nebraska thrive, especially the areas outside Lincoln and Omaha," she said. "The national pattern is that rural areas and smaller cities and towns are starting to die out. I think we can change that dynamic in Nebraska. It's important for the health of Nebraska overall that we have dynamic communities across the state."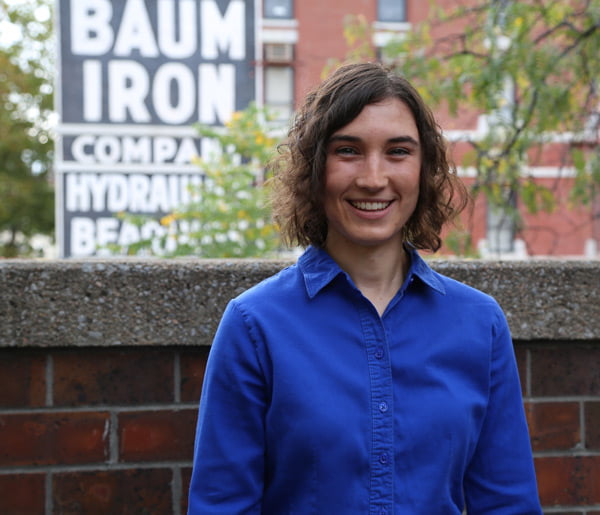 A native of Grand Island, Nebraska, Zarek graduated from Hastings College in 2015, magna cum laude, with high distinction in economics and Spanish. After earning her master's degree in economics at Iowa State University and working as a research analyst at the Greater Omaha Chamber, she was hired last year to create a comprehensive data infrastructure and manage the research team at the Department of Economic Development, which strives to attract and retain businesses and talent throughout Nebraska.
Zarek's career choice was inspired, in part, by her undergraduate experience in Hastings College's Talent Pool, a program that pairs business and economics interns with local organizations. During an internship with the Hastings Economic Development Corporation (HEDC), she conducted research on local businesses and entrepreneurs and the resources available to them in the Hastings community.
"I was already interested in economic development, but this internship really solidified that this could be a career for me," Zarek said. "I saw that there is a real need for economic development in the state and that I could develop the skills to make a difference."
Zarek's internship mentor at the HEDC was Dave Rippe, who later became director of the Nebraska Department of Economic Development and hired Zarek as the chief data officer. This fall, Rippe joined Hastings College as director of the Scott Scholars program.
"Jennifer is an amazing talent. She is a unique combination of a confident leader and a skilled tactician. I knew from the second I met Jennifer that she was very special, and I am honored to be a part of her journey," he said.
In her position at the Department of Economic Development, Zarek collects and analyzes data to provide insight into Nebraska's economy, the outcomes of department programs and grants, and the impact of national and state legislation. She and her team are currently working on a project that compares Nebraska to all other states in the areas of workforce vitality and economic strength.
"According to about any metric you can find, Nebraskans are well-educated, hard workers. We also have a diverse economy and tend to weather recessions better than other states," she said. "I think one area where we are struggling, which is not uncommon, is the availability of workers. We have slow population and workforce growth, which is limiting how fast our economy can grow."
While more populated states with multiple urban centers have greater access to qualified workers, Nebraska offers unique career and lifestyle possibilities with a touch of "nice" thrown in the mix, Zarek said.
"I think Nebraska is a great place to live because there are so many opportunities. You can do anything you want here — focus on any career, raise a family, start a business. Most important, you can live in any type of area that you want — rural, small town, big city — and the people will be welcoming and friendly. You can really plug into your community in Nebraska and make a visible difference," she said.
Zarek credits a diverse group of faculty mentors at Hastings College with preparing her for a successful career and interesting life. From her economics classes with Dr. Amy Black '90 and Spanish classes with Dr. Pedro Vizoso, to her flute lessons with Deb Johnson '77 and Bell Choir experiences with Dr. Byron Jensen, she learned to think critically and pursue her passions across the disciplines.
"The professors at HC truly cared about me as a person and as a student," she said. "For me, the liberal arts approach was very important, and I believe it has given me an advantage in the workforce."
By Judee Konen '85, associate vice president for advancement.