While studying business administration and marketing, Hastings College senior Kelsie Zadina found herself interning at Black Oak Builders in Lincoln, Nebraska, for a second summer this year.
As a teenager, Zadina, who is from Seward, Nebraska loved watching houses go from blueprint to move-in ready.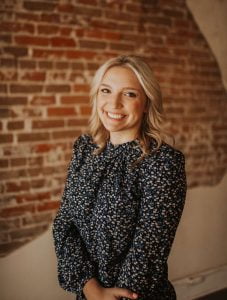 "It's pretty funny, there is normally a parade in Lincoln to view builders and it's mostly for people wanting a home. Black Oak unknowingly was one of my favorite builders," she said. "Going from an eager high schooler to now working with them is a big deal."
Black Oak Builders is a custom home builder based in Lincoln that specializes in spec and custom homes only. Black Oak is also the sister company to Russell Remodeling, which specializes in the remodeling of residential, commercial and custom homes.
At Hastings College, Zadina developed a personalized program degree specific to her academic interests and goals. She said the Hastings College partnership with Central Community College allows her to take classes in business, marketing, and other related classes at Hastings College, and then specialized architectural design courses at CCC. Combined, she said they have helped prepare her for work at Black Oak.
In her role as an intern, Zadina works closely with the owner to establish client needs. She has helped to develop an array of floor plan options for clients and has grown into quite the remodeler.
"The one strength that serves me well is that I like to learn," she said. "Before last summer I thought I knew what I was doing and by the end of summer I was far more advanced in the industry."
During her first summer internship last year, Zadina spent her time listening to client needs and putting out the best options to serve customers. "Now in my second summer, I'm able to lay out new floor plans using a computer drafting system and have developed architectural design skills from experienced designers and business owners."
She said this summer her opportunities are limitless.
"While I'm doing a bit of the same stuff from last year, this time things are more advanced. I'm going to really utilize my business and marketing skills," she said.
Zadina noted that the housing industry is a valuable industry. "My work goes beyond building a house," she said. "I'm building a neighborhood and a community."On campus in Hastings, Zadina takes on many roles. Along with many other groups, she is a member of the Alumni Mentoring Program and the Talent Pool Professional Development Program through the Department of Business and Economics. She said she encourages other students to make connections and to take in everything they can from different organizations.
By Kianté Stuart a junior from Nassau, The Bahamas, majoring in communications studies and business administration.