As Amy Fuller, a sophomore English major from Gilbert, Arizona, finished her college search, she focused on three must-haves:
1. A college with strong academics,
2. A college focused on students' success and
3. A college with a growth mindset.
She chose Hastings College.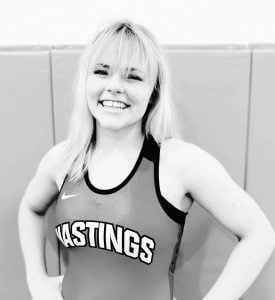 And though thousands of students have studied literature in the College's McCormick Hall, one aspect of Fuller's experience sets her apart from the rest. She's also a member of the inaugural Bronco Women's Wrestling team. In fact, at one point during the 2020-21 season, she was ranked #10 nationally at 136 lbs.
Finding her way to the wrestling mat
Only a few years ago, competing in wrestling seemed unfathomable to Fuller.
Track and field had been her home for until she moved at the start of her junior year of high school. Looking for a community at her new school well before the spring season, she met a friend who enjoyed boxing and wanted to experience a contact sport.
"For any person who has never attempted a combat sport, simply put, there is absolutely no way to describe it," Fuller said. "It is liberating to know you gave something all of your strength, energy and emotions."
Soon thereafter, she knew she wanted to join the girls' wrestling team to push herself and establish friendships.
"My mom wouldn't even hear of it at the time, but my dad understood right away and together we hatched a plan," Fuller said.
A former high school wrestler himself, her dad made Fuller promise she would commit to three practices. Trying her first moves on the mat, without wrestling shoes, proved interesting.
"Holy cow, did I feel awkward! I felt like a baby giraffe trying to walk for the first time. And I worried I would never get the hang of it," Fuller said. "But I had committed to three days, and three days it would be. Before the end of my third practice I had been consumed by the sport. It filled every inch of me with energy and ambition."
Her passion for the sport brought her to Hastings College, which announced in 2019 it would offer women's wrestling for the first time in its history.
"Being a part of a brand new athletic program has allowed me to establish and build a culture that will have effects for years and years to come," Fuller said.
Members of a small, new team face unique trials, too, such as practicing with the same people and few spectators.
"People can see that. But some of the struggles that people can't see weigh more heavily on a person than the visible," she said. "The indescribable and suffocating pressure you feel at times, mostly self-inflicted, can be difficult to carry. I have to constantly remind myself that I have already done well."
Finding her way through literature
As passionate as Fuller is about wrestling, her love for literature exceeds it.
"My favorite authors seem to have a way of pulling the curtain back on life and displaying it for how it truly is," she said.
Among her favorite books she counts Charlotte Bronte's "Jane Eyre" and Oscar Wilde's "The Picture of Dorian Gray."
"'Jane Eyre' made me more empathetic, and I felt less lonely in my deepest despair because of it," Fuller said.
She enjoys contemporary authors Orson Scott Card and J.K. Rowling as well, citing appreciation for their attention to detail and use of intricate plots.
Finding her vocation
Once she completes her Hastings College degree, Fuller currently plans to attend law school and apply her growth mindset to a career serving underprivileged communities.
Where does wrestling fit into Fuller's future?
"I see myself coaching young girls in the sport I have fallen in love with," she said.