Yannic Thiel '11 takes pleasure in his refined tastes for the simple joys in life. For him, there is great happiness to be found in a good education, competitive soccer and luxury shoes.
He's such a believer in this foundation of happiness for him that, in January 2015, the former Hastings College economics major started his own custom shoe brand and company. Yan Raven Germany, based in Munich, Germany, is a one-of-a-kind business that sells luxury sneakers.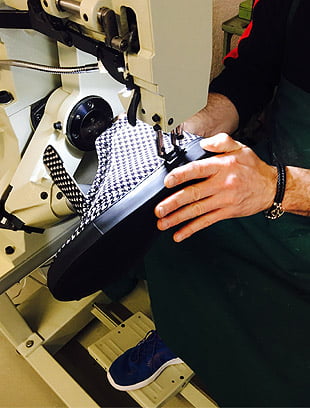 Thiel's brand stands out among the crowd of notable footwear producers due to its high-quality materials — including fine goat suede and rare ray leather — and completely customizable offerings.
"Every pair is personally crafted for the customer, and every model is limited, which keeps the exclusivity of the product," Thiel said.
From cleats to custom kicks
Thiel's first musings for Yan Raven Germany developed during his professional soccer career for the SpVgg Unterhaching in Germany. Off the field, the self-proclaimed "shoe addict" explored the world of sneakers. He learn about different styles, materials and vendors, and expanded his personal collection of kicks — until he discovered a limitation to his interest.
"At the time, I was personally buying a lot of shoes, and I eventually came to a point where I was not able to find the design and quality I wanted. I decided, 'Why not just create your own shoes and designs?'" Thiel said. "Fortunately, my working hours as a soccer player left time for me to develop and create my own brand."
What started as an unmet need in the market transformed into Yan Raven Germany, as Thiel put his Hastings College education into action to build a company from the ground up.
"At Hastings College, I received exactly the broad business and economics education needed to start as an entrepreneur," he said. "And it was not just the economics major that prepared me; I picked something out of every class, and I use every single part of my Hastings College education to run Yan Raven Germany."  
Home away from home
Thiel first learned about the college that would play a pivotal role in his entrepreneurial ventures through his older brother Simon Thiel '06, who is now an investment banker in New York.  After a high school exchange year in Clay Center, Nebraska, Simon continued his education in America at Hastings College.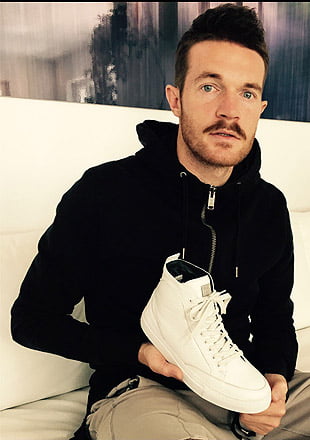 Thiel followed in his brother's footsteps, spending a year as an exchange student at Hastings (Nebraska) High School; it was an easy next step for him when deciding where to receive his post secondary education.
"In my year as an exchange student, I fell in love with Hastings and the people," Thiel said. "It felt like home, so it was an easy decision for me to continue my education in Hastings."
The homey feeling of Hastings followed Thiel throughout his collegiate career. Whether he was on the field as a part of the men's soccer team, or in the classroom developing a background in economics, the support system he found at Hastings College helped him flourish.
"Right from the start I felt welcomed," he said. "The teachers, the students, everyone helped me and supported me in anything I was unsure about.  It was an awesome feeling to know that at any time, someone is there to help you. I didn't take that for granted."
Succeeding as a student-athlete
One of Thiel's most defining Hastings College experiences was his four-year career as a student-athlete at Hastings College. He said the men's soccer team combined his passion for soccer with a post secondary education.
The student-athlete lifestyle also helped Thiel develop skills he still uses today. He noted that his time management skills improved as he learned to balance coursework and soccer.
"As a student-athlete, you are a student first, then an athlete. I wanted to succeed in both," Thiel said. "At times it was very difficult — especially at the beginning when everything was new for me and my English was still not the best — but I grew with work, time and experience."
By his senior year, Thiel's growth was evident. The men's soccer team won Hastings College's first NAIA national championship, Thiel was honored as a first team All-American selection, he received his Hastings College diploma and he returned to Germany to fill his roster spot with the SpVgg Unterhaching.
And now, just six years later, Thiel continues to find success in combining his schooling with soccer and sneakers. In fact, his custom footwear company is blossoming in its niche for luxury sneakers, and professional soccer players and fashionistas alike sport Yan Raven Germany shoes.
By Mallory Gruben, a senior from Eckley, Colorado, majoring in journalism