When business students jump into the Talent Pool, they are supported by local business and nonprofit leaders —including HC alumni—who serve as mentors and provide meaningful internships. This difference-making program is sponsored, in part, by the Dudley-Doerr Society, a network of business alumni who provide mentoring and financial support.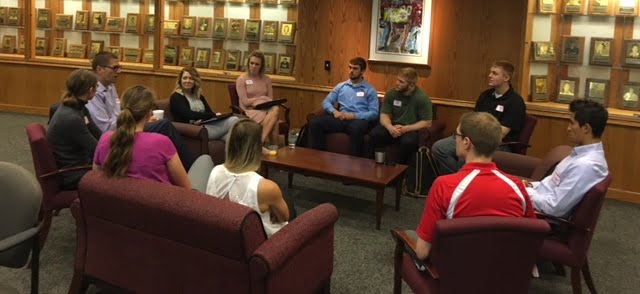 Talent Pool, started in 2013 for business majors and minors, pairs a student with a mentor from a local business or organization. The exclusive opportunity sets up students with an internship that fits their career interests while also giving them an outlet to showcase their academic gifts. Talent Pool is directed by Roxann Holliday, assistant professor of marketing.
"The purpose of Talent Pool is to provide students with not only an internship, but also a mentor from the Hastings business community that they can reach out to and learn from," Holliday said. "We have a pool of exceptional local employers and a pool of exceptional HC business students, and we put them together for an internship."
To be selected for Talent Pool, students need to have completed at least nine credits in the business and economics department, be enrolled as a full-time student and have a good GPA. Students in Talent Pool spend the first semester working on resumes, soft skills, cover letters and networking. Students are then placed in an internship for either the spring semester or over the summer.
For the 2017-18 academic year, seven students were involved in Talent Pool. Businesses and organizations participating are Hastings Economic Development Corporation (HEDC), Lochland Country Club, Adams County Convention and Visitors Bureau, Steeple Brewery/Idea Bank Marketing, Eaton of Hastings, Midwest Farm Management and Pacha Soap. In the past, students have also been mentored by Mary Lanning Healthcare and Industrial Irrigation Services.
Talent Pool alumni give back
Hastings College has had great success with Talent Pool. One of the most notable achievements was placing three graduates in full-time positions created for them after their Talent Pool internships with those companies. Talent Pool mentors have also been instrumental in helping interns land jobs and graduate school placements by serving as references and writing recommendation letters.
Maggie Vaughan '16 and Kayla Nelson '16 are Hastings College alumni who are now employer mentors, encouraging the next generation of business students. Vaughan was also a Talent Pool alum and she has the opportunity to give back to the program that helped her find so much success.
By Ryan Smolko, a senior history major from Phoenix, Arizona