Learning becomes impactful when students see class concepts implemented in the real world, and such was the case for a Hastings College communication class earlier this year. During the class, students researched, wrote, and illustrated multicultural children's books, which they read to third graders at Lincoln Elementary in Hastings.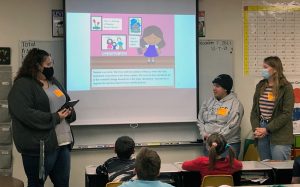 The class — COMM333 (Intercultural Communication) — studied the importance of cross cultural communication, specifically recognizing the growing diversity in public schools across the country. The purpose of the multicultural book project was to write children's books that celebrated diversity by representing diverse groups of people and eliminating stereotypical narratives which often occur in children's literature.
"One statistic that really struck me was that 50% of children's books contained white characters, and the next highest percentage of representation was of animals, in 29% of all children's books. This is a problem because if children aren't seeing themselves represented in the stories they read, whether that's through race, gender or disability, they are going to feel like maybe they are alone in their struggles," said Grace Sinsel, a junior from York, Nebraska.
Sinsel's group wrote their book about an English as a second language (ESL) student struggling to communicate on her first day of school. An aspiring ESL teacher, Sinsel's passion to work with these students was the inspiration behind the book. Her group was able to witness how ESL students related to their book while reading aloud at Lincoln Elementary in Hastings.
"One student related to Daniela, our main character, and said that he only knew Spanish when he first came to school. Another student told us that he knew Spanish and English, so he became a translator for a new student who only spoke Spanish. It was really rewarding to get to see the students understand and relate to what we had written," Sinsel said.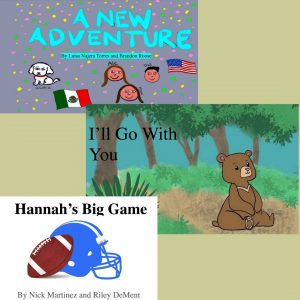 Another group took a different approach to the project, focusing on gender stereotypes, specifically in clothing.
"I feel like there's definitely times growing up that maybe little girls want to wear a dinosaur shirt, but there's that fear that someone might call you a boy. Or little boys that love dancing, but don't want to tell anyone because they think it's too much of a 'girl thing.' We wanted to show kids it's okay to be different, and not to stress so much about what you are wearing," said Emily Doherty, a third-year student from Bangor, Northern Ireland.
After listening to their book, one little boy pointed out, "It's not about what you're wearing, it's about the person wearing the clothes." Doherty said this was another rewarding experience of watching students connect to the message of their book.
This project provided students with real world insight to the importance of multicultural literature, an experience that made the class material relevant to them. For Doherty, a business administration major, this lesson was related to business.
"Seeing the way kids connected to our diverse children's books made everything we learned in class more than just a concept to me. Globalization is real, and soon we are going to have every single culture in our schools, businesses and communities," Doherty said.
Sinsel, an education major, was able to examine this experience from a teaching perspective and apply it to her future as an educator.
"From an educator's perspective, multicultural literature is important because kids need to see themselves in the books they are reading. It's a huge motivation to get them reading," she said. "But kids also need to see those that are different from them in books so they can develop empathy."
Whether its future teachers finding ways to celebrate diversity in their classrooms, or students just learning how to be inclusive community members within growing diversity, the multicultural book project was an impactful experience for all.
"Diversity is a huge aspect of the world we live in today, and no matter what career path students take they will have to learn how to communicate with those who are different from them. This project helps bring to light how important inclusion is, and it's an experience that students can take with them as they navigate growing diversity in their futures," said professor of Communication Studies Dr. Jessica Henry, who taught the course.
By Landry Hinkson, a sophomore communication major from Bazaar, Kansas.