When pressed to come up with a business idea for her entrepreneurship class, Hastings College junior business administration major Carli Russell said a dream of hers rose to the top: her previous work as a drive-thru coffee barista inspired her idea of owning a mobile coffee and pastry business.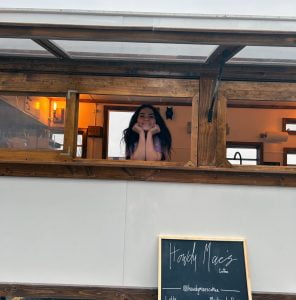 After developing her business plan for class, she was encouraged to present the idea at the Hastings College Big Idea competition in 2021. The judges agreed that it was a great idea, and she won first place. After that, Howdy Mae's Coffee Co. began to take shape.
The Lubbock, Texas native combined the famous Texas "howdy" with her middle name for her company's name. For the logo, she incorporated a 10-gallon hat along with the company's name. She designed and drew her logo on her iPad while riding the bus to a road game with the football team — she has a scholarship with the team to help manage equipment, recruiting, practices and game uniforms.
Next on her list was finding somewhere she could serve her coffee from.
"Last fall, I was fortunate to find a used 20-foot trailer from a former mobile coffee vendor in Fort Dodge, Iowa," said Russell.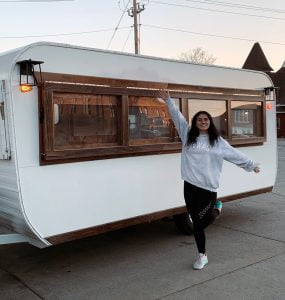 The 1968 Cavalier trailer, which was refurbished in 2020, was perfect for what Russell was looking to do. The trailer was turnkey, so no improvements needed to be made. Grant money she won at the Big Idea competition and some inheritance from her grandparents helped fund the purchase, allowing her plans to open her own mobile coffee and pastry shop move closer to reality.
She will feature Lenoir Dimbaya Coffee, an African coffee bean roasted and sold by Sidy Sissoko '22, a successful Hastings College graduate and entrepreneur. (Read more about Sissoko here.)
"I plan to bake the pastries myself, but if business becomes very busy, I may have to outsource them," Russell said.
Russell served her first event at Hastings College where it all started, this year's Big Idea HC.
"I hope to be able to do more events at the college in the future as my business grows," said Russell.
By Joan Primrose, an administrative assistant with the Department of Business and Economics.