The coffee business started in a dorm room in Wyoming for Hastings College senior Sidy Sissoko. Sissoko, attending a community college at the time, and his roommate experimented with roasting coffee beans his roommate brought with him from his family's coffee bean farm in Kenya, Africa.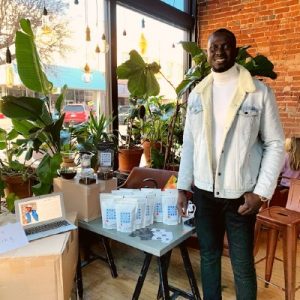 "People complained about the smell," he said, "but when we finished roasting the beans and made some coffee, people loved the flavor of our creation." This sparked his interest.
Following encouragement from a professor, Sissoko pitched his coffee business idea at the Hastings Chamber of Commerce's Big Idea Hastings competition in the spring of 2019. Big Idea Hastings is similar to the TV show "Shark Tank."
While Sissoko did not win the competition, he made a lot of connections, including meeting Andrew Vrbas '12, CEO and founder of Pacha Soap, located in Hastings, Nebraska.
"Vrbas and Dave Rippe, owner of Queen City Development in Hastings, mentored me in small business set-up and set me up with an attorney to help me get a business permit to own my own business," he said. "Because I am an international student, my immigration status complicated things, but I now have a business permit and an LLC."
At the age of 15, Sidy left his home in Mali, West Africa in 2012 as an asylum-seeker. He said it was quite an ordeal making his way through the airports to get to his destination.
"I did not speak English when I came to America; French is my official language. A Catholic organization placed me with a caring family in San Francisco," he said. "I lived with them while I attended high school where I experienced language and culture barriers and had a lot of new social customs and norms to learn."
Sissoko's father died when he was young. His mother owns her own shop selling furniture and appliances in Africa. It was a very small shop, and a day-by-day business; when she sold something, they had money to eat.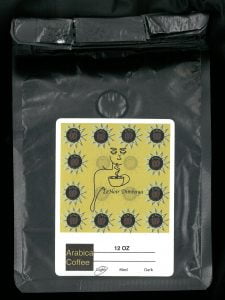 Following high school in 2016, Sidy travelled around the country to play basketball and pursue his education. After spending a year in Maine, he received a full athletic scholarship to play basketball at Sheridan Community College in Wyoming. This is where he met his "coffee bean roommate" from Kenya.
From there, he went to Concordia, Kansas, where he received his associate degree, before transferring to Hastings College where he's pursuing a degree in business administration with a minor in English.
Sissoko's coffee brand, Lenoir Dimbaya Coffee, began selling online at LenoirDimbayaCoffee.com during the spring of 2020.
"I am currently focused on my online business development strategy. This past summer I sold coffee at the farmers market in Grand Island (Nebraska) and I am currently talking to local business people about placing coffee in their store," he said.
He currently buys coffee beans from Burundi, Africa, through a wholesaler in California, and roasts the beans himself. Sissoko said African farmers put everything into their farms leaving them barely able to provide for their families.
"I want to help these families by buying their coffee beans so their children can go to school and get an education. Children are not able to go to school because they are expected to help work on the family farm. It is a matter of survival," he said.
Through his coffee business, Sissoko said he hopes to translate positivity to others by promoting the means for people to connect and build relationships over a cup of coffee.
Sissoko said he plans to stay in Hastings following graduation in 2021.
By Joan Primrose, an administrative assistant with the Department of Business and Economics.