By providing creative and immersive reading programs for kids throughout the year, Rylie Felton '22 has forged a path for the Hastings Public Library. Working at the library has allowed Felton, who majored in English at Hastings College, to take the next step in following her passion for books and poetry.
Felton said her fondness for poetry began when she attended her first "Slam Camp" in 2015 where she met some of her few favorite contemporary poets: Sierra Demulder and Neil Hilborn.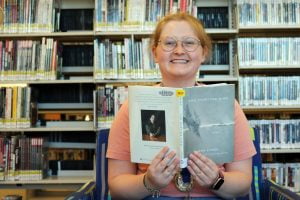 During her time at Hastings College, she also organized her first open mic night on campus and hosted a weekly poetry club during her first year.
At Hastings Public Library, she's the librarian experience assistant and is responsible for managing adolescent summer reading programs, organizing books for displays, stocking the summer reading cart for kids and covering story time. Felton said she has plenty of recommendations to choose from if someone is ever in need of a new book genre or new to leisure reading.
Felton said she takes pride in helping kids in her programs find books they enjoy reading or helping them discover a new and unexpected genre.
"I love helping people because it makes me happy. So when kids come to the library, it's my goal for them to walk out feeling satisfied and curious with the books they take home," Felton said.
She also developed the theme for this summer's community reading program: All Together Now.
"All Together Now focuses more on acts of kindness the kids can partake in their communities. All it takes is to be kind; whether it's big or small, it's the little things that make the most difference," Felton said.
Her experiences with English classes on campus, specifically a Beowulf analysis class, inspired Felton to learn more about contemporary pieces and implement contemporary poetry in her programs.
"I am also forever grateful to Carissa Uhrmacher at Career Services for reaching out to me about the Hastings Public Library job. I had no clue about the position until Carissa sent the application to me. Who knows where I would be without that act of kindness," Felton said.
Felton said she has big plans for the next year as she pushes for a reading and writing workshop and an official library poetry club. She continues to spread her passion for programs to the rest of the library community and urges community members beyond the library to get involved.
"I want students to be more curious. If you're at Hastings College and curious about a class, take that chance and try it out," said Felton. "Never doubt or sell yourself short, you might surprise yourself."
By Cecilia Velarde, a junior marketing and communication studies double major from Loveland, Colorado