Burlington Capital is a leading investment management firm that creates and pursues innovative business ventures through its experience, knowledge and relationships in the areas of real estate and international agribusiness. According to Hastings College senior Madison Jagels, interning at Burlington Capital was the perfect way to build her portfolio.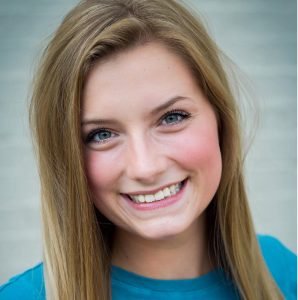 Jagels, a marketing and digital design and development double major and member of the Hastings College cheerleading squad, secured a position as a creative services intern this summer where she is responsible for creating marketing material and graphic work.
"Everyday, I typically have three to four projects that I work on. In most cases, one of the many properties Burlington Capital manages will send in an order for a marketing piece, and my job is to make materials that fit the need," she said. "More specifically, full marketing campaigns can be around 15 pages of content ranging from advertising material to flyers and postcards that need to be sent out."
The Omaha native said the internship wouldn't be possible without the Hastings College Career Services office.
"I met with Kim Graviette and we looked at many internships. She showed me how to locate an internship, and then I went and found Burlington Capital on my own," she said. Additionally, Graviette, the director of Career Services, was a great help during the interview process, as a mentor, and provided materials and time together in order for Jagels to be prepared.
When asked what marketing means to her, Jagels said marketing is the part of business that promotes products and services, especially through advertising and selling methods. There's research and trends that have to be analyzed with this. "To me marketing means advertising something strategically to be it's best form in a creative and functional way," she said.
Jagels also had a lot to say about the marketing program at Hastings College.
"At Hastings College, I've learned useful information because of the marketing classes, especially with my confidence in my designs from start to finish," she said. Her experience at Hastings College has her hopeful for life after she graduates next spring.
"At first I was hesitant about my skills going into this internship, but this experience has made me confident to start a full time career," she said.
For students seeking a marketing specific internship, Jagels offers this pro tip: "There's a saying that goes, in business it's not all about what you know but also who you know. So make the right connections because that's going to move you forward."
By Kianté Stuart, a junior from Nassau, The Bahamas, majoring in communications studies and business administration.