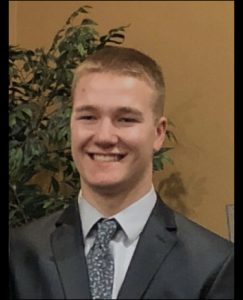 Hastings College senior Mason McMeen has gone back to his hometown of Broken Bow, Nebraska, twice to intern at Becton, Dickinson and Company (BD), an American multinational medical technology company that manufactures and sells medical devices, instrument systems and reagents.
McMeen, a physics major with a mathematics minor, is a facilities engineering intern this summer after working as a project engineering intern a year ago. He designs parts and works in research and development and has grown his skills as an engineer.
BD seeks to advance the world of health by improving medical discovery, diagnostics and the delivery of care and has a presence in virtually every country and partners with organizations around the world to address some of the most challenging global health issues. 
By interning with BD at its Broken Bow facility for the last two summers, McMeen is a part of this mission. 
McMeen originally planned to study business when came to Hastings College. 
"My first encounter with physics was my sophomore year when I took a physics class," he said. "Physics solves real life problems and it's really hands-on." From that moment, he was hooked, and changed majors to align with his newfound passion.
This summer, his primary responsibilities include modifying and updating plant facilities, tracking chillers and air compressors and simply maintaining a functioning plant. Mcmeen's schedule also includes research development of products and modifying production lines.
"I've designed machine parts, worked in research development and seen the production process from start to finish. I was able to see firsthand what this work looks like from a corporate level," McMeen said.
It's a position that requires him to balance and apply lessons in mathematics and physics with his role. "Like school, there's never a time where you aren't busy. It's nice to be able to use concepts from class, especially when redesigning and linking dimensions," he said.
Above all else, McMeen said he finds joy in this learning opportunity. 
"They invest a great deal of resources into their interns, and I am grateful for the opportunity given to me from BD. I've developed great habits, and I look forward to more learning. I'm proud of my growth as an engineer," he said.
By Kianté Stuart, a junior from Nassau, The Bahamas, majoring in communications studies and business administration.