In early September, Dr. Oleg Kalinskiy '98 was named one of the 106 winners of the all-Russia competition, Leaders of Russia. The competition, held for the third time, is designed to help identify the next generation of Russian leaders, and Kalinskiy said he thought back on his Hastings College roots after winning.
During the competition, contestants are given various tests and cases to explore their level of preparedness to manage large scale projects and solve complex problems.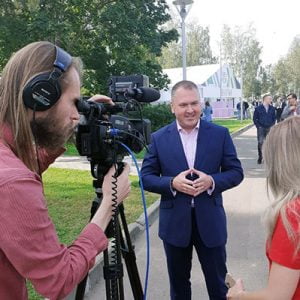 Potential leaders' hard and soft skills are evaluated like leadership, positive influence on people, critical thinking, orientation to reach results, teamwork, collaboration, communication skills, social responsibility and ethics. Participants are also required to complete a large-scale project aimed at solving an existing societal problem.
Leaders of Russia was initially organized by Russian President Vladimir Putin. This year, more than 230,000 Russians took part in the competition. Only 106 were selected as winners based on cumulative scores following a SuperFinal event.
As one of the winners, Kalinskiy was awarded a $15,000 grant for educational purposes in Russia. He said he's considering enrolling in the Executive MBA Program of the Stockholm School of Economics accredited in Russia.
"The competition, as a whole, and the SuperFinal, in particular, were very challenging events with people competing aggressively knowing that there will be no second chance," said Kalinskiy. "I believe I became one of the winners due mostly to what I was taught many years ago at Hastings College."
Kalinskiy said he was taught by many prominent Hastings College faculty — Dr. Chuck Evans, Dr. Denny Storer, Roger Doerr, Dr. Phil Dudley and many others, including Dr. Rich Lloyd, who is now the College's executive president. He said Hastings College faculty taught him how to interact with people, listen and to solve problems as one team to support each other.
During his time at Hastings College, Kalinskiy said he was a student on the Hastings College Lecture Series Student Symposium Committee under Dr. Jim Dugan. Dugan taught him that leaders do not reward mediocrity, but help students excel.
"The lesson on leadership that Dugan taught me is something I have never forgotten," he said. "I am grateful to Hastings College and its community for making me who I am today."
Kalinskiy, who majored in economics, was the College's Commencement speaker in 2014 and was presented a Young Outstanding Alumni Award.
By Courtney Hanson, a senior from Brookings, South Dakota, majoring in communication studies and philosophy and religion