The continued connection between Hastings College and the nonprofit organization Prairie Loft helped Sam Johnson '22 foster his love for connecting people with the environment and helping people interact with it.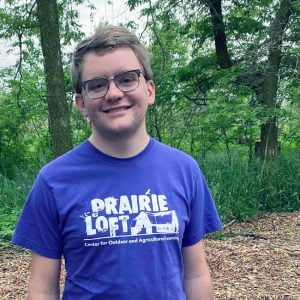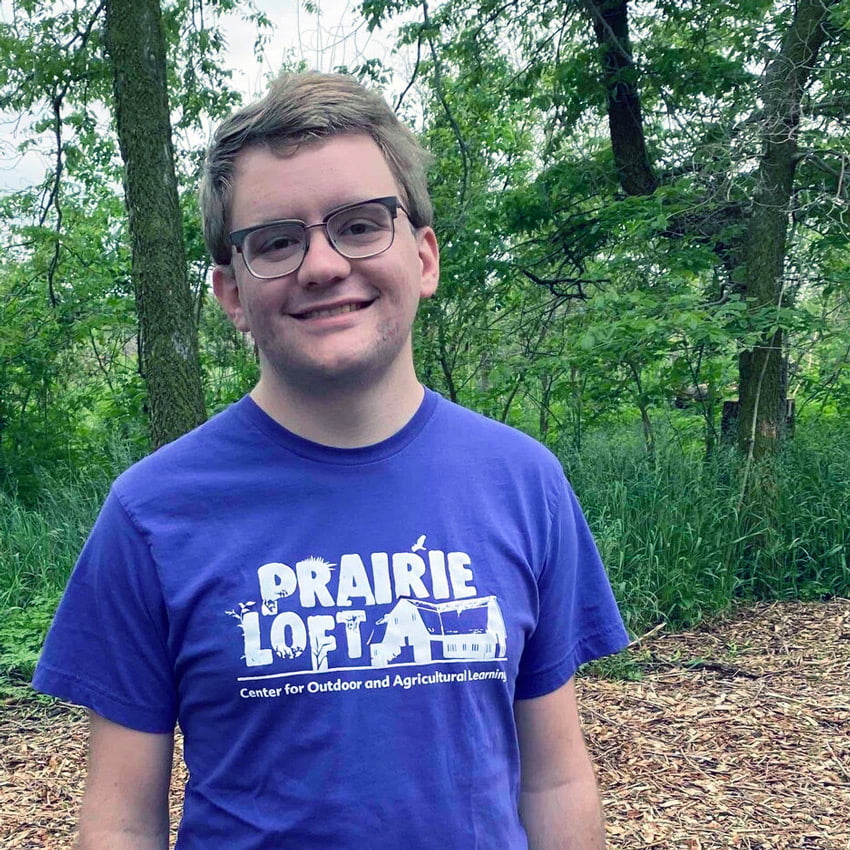 The summer before his senior year, Johnson was looking for a job opportunity that could provide him with experience in his field. Covid-19 made it harder to find exactly what he was looking for, but with the help of career services, he learned about a job at Prairie Loft as a program guide for kids' day camps throughout the summer. Johnson was interested in the position for its environmental aspects, but knew working with kids would take him out of his comfort zone.
"It was something that was a bit uncomfortable for me because I wouldn't have considered myself really good with kids then," Johnson said. "But it's also kind of helped me build my confidence."
During his first summer at Prairie Loft, Johnson learned that emulating the energy of the kids you're working with, makes everyone experience better. He explained that despite the fact that he wasn't with a group of kids for very long, having that energy and enthusiasm that he may not show in his own daily life, helped the campers find a more fulfilling experience.
While Johnson was most nervous about working with kids, he made a large effort to bring a lively energy to each camp he worked at because Amy Sandeen, executive director of Prairie Loft, trusts Johnson implicitly.
"He has a rare combination of empathy and energy that you don't see very often," Sandeen said. "He can connect with people in a really comfortable and open way that gets other people excited and energized to try and do things."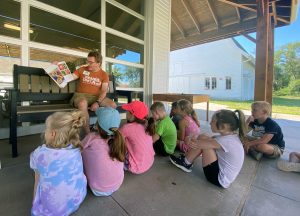 After having a good experience and making such a good impression on Sandeen, Johnson decided to work at Prairie Loft for a second summer. "It was a great opportunity so I did it again. Also it was fun and I really enjoyed myself," Johnson said.
Sandeen explained that she has had many opportunities to work with Hastings College students because of the long standing connection between Prairie Loft and Hastings College. Ever since Prairie Loft started doing summer programs in 2013, Hastings College students have been working at them. But more than that, Sandeen has been able to partner with multiple professors to either help facilitate a course or give them a secondary space for their class.
"We've always partnered with professors who want that change of scene and want to do that experiential learning off campus," Sandeen said. "We are convenient and well suited for creative writing, wellness classes, sociology, bioethics, botany, biology, psychology, education, and more."
Sandeen explains that there are a lot of students who become staff at Prairie Loft after taking courses there, and Johnson is no different as he took a course with Dr. Stephanie Furrer and Sandeen at Prairie Loft his junior year.
Johnson explained that his two summers at Prairie Loft allowed him to discover more about his passions. Prairie Loft helped him understand that when it comes to environmental issues, the community and all people have to be involved and connecting people in order to understand that is important.
This fall he is attending the University of Wyoming to pursue a law degree in environment natural resource law and a master of arts in environmental natural resources.
"Prairie Loft has helped me to explore my interests. Connecting me with the surrounding community allowed me to see what all is possible," Johnson said.
By Ally Banks, a junior English major from Shawnee, Kansas