Devon Wetteland, a 2015-16 Talent Pool member, decided to apply for the competitive internship program based on an article about how employers value internships.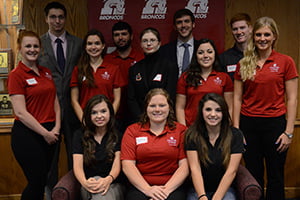 "I thought the Talent Pool would be a great way to gain real-life experience in the business world, not only to improve my resume, but to also determine what I most enjoy doing and clarify my career goals," said the Highlands Ranch, Colorado-native.
Coordinated by Instructor of Business and Economics Roxann Holliday, the Talent Pool is an exclusive opportunity for Hastings College students in the Department of Business and Economics to dive into their career fields while demonstrating their academic skills and talents.
Many local businesses and organizations offer partnerships with students, including Pinnacle Bank, McDermott & Miller, P.C., and Industrial Irrigation. As well as providing a meaningful on-the-job experience, the community partners provide regular and substantial feedback to the intern, and to Holliday, on the intern's performance.
"Additionally, they spend a semester networking with local business leaders, benefit from time spent with employer mentors and develop soft skills important for the workplace," said Holliday. "Soft-skills training includes such things as a dining etiquette workshop at Lochland Country Club, networking, and social media do's and don'ts."
Talent Pool participation is an option for full-time students with sophomore standing, a major or minor within the Department of Business and Economics (DBE) and at least nine credit hours completed within the DBE.
At the end of the semester, the students and businesses submit requests for who they want to work with, and they are matched by DBE faculty. It is possible that an internship may not be possible for a student but they will still maintain eligibility and membership for future Talent Pool cycles. 
The Talent Pool provides Hastings College students the opportunities to become active in the community and learn important information about the career field they are studying as well as getting experience and training.
"The Talent Pool is one of the key factors in the outstanding career outcomes of graduates of the Department of Business and Economics" said Dr. Douglas Kinnear, Chair of Hastings College's Department of Business and Economics. "The Talent Pool provides outstanding internship opportunities that give our students 'real world' skills and experiences."
The students accepted into the 2015-2016 Talent Pool include:
Allison Braun from Henderson, Nebraska
Charlie Buckles from Deshler, Nebraska
Levi Cermak from Hastings, Nebraska
Marissa Christiancy from Franklin, Nebraska
Garrett Delphia from Highlands Ranch, Colorado
Sandra Frazier from Highlands Ranch, Colorado
Jessica Gonzalez from Albion, Nebraska
Katie Janky from Chapman, Nebraska
Rachel Mulholland from Wahoo, Neraska
Austin Rowlett from Lincoln, Nebraska
Michaela Wagner from Brighton, Colorado
Devon Wetteland from Highlands Ranch, Colorado
Written by John Funkey, a junior marketing major from Hastings, Nebraska