Two Hastings College students are able to complete internships this year thanks to support from the Dudley-Doerr Society for Business and Economics.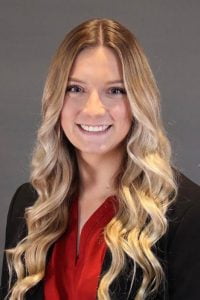 The Dudley-Doerr Society is a network of alumni who support the Hastings College Department of Business and Economics with their time and resources, while also honoring legendary business professors Dr. Phil Dudley and Roger Doerr.
Senior Madison Jagels, marketing and digital design major, is completing her internship this spring at The Lark, a music and event space in downtown Hastings, Nebraska. Senior Jordanna McCauley, an accounting, communication studies and marketing triple major, interned at Vaughan's Printing in Hastings last fall.
Jagels, who is a member of the Hastings College cheerleading team, works mostly remotely as an administrative marketing intern. "This experience at The Lark is significant to me because I want to have a wide range of experience heading into the work field after college," she said. "I want to be able to say I've worked for different sized companies and I have worked on a wide variety of projects. I will feel more confident in my abilities to lead myself, and perform well in any role."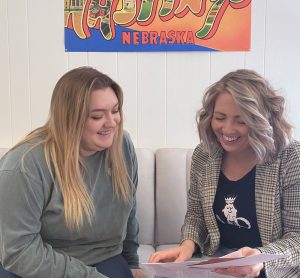 McCauley completed similar tasks supporting marketing, accounting, website and social media efforts in relation to small business and entrepreneurship management in her time at Vaughan's Printing.
"I knew I was super fortunate to have the Dudley-Doer grant as an option. Without it, my internship would have gone unpaid," McCauley said. "As a full time student who already was working two jobs to pay the bills, it was a relief to receive the grant and not have to worry about the financial burden."
McCauley said that she was thankful for the opportunity. "No amount of work should go unpaid, no students should have to worry so much about finances. I appreciate the work the grant does because it can really change lives," she said.
By Kianté Stuart, a junior from Nassau, The Bahamas, majoring in communications studies, business administration and marketing.