The personal connections students make through Hastings College and the greater Hastings community play a critical role in student success — that's one of the most important lessons Holly Bosley, a senior from Longmont, Colorado, said she learned throughout her four years at Hastings.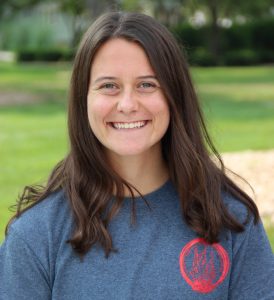 As a first-year student, Bosley immediately became involved on campus by being part of the women's soccer team and stepping into an RA position in Babcock Hall halfway through the year. Over the next three years, her involvement continued to expand, becoming a campus tour guide and a Human Performance intern; starting a campus mental health awareness group, HOPE120 and joining two national academic honor societies, Alpha Chi and Tri Beta.
As Bosley increased her involvement on campus, she saw a shift in her mindset.
"Coming into Hastings as a freshman my goals were definitely centered around soccer, and while that continued to be a huge part of my Hastings experience, I began to realize that soccer itself wasn't what was keeping me in Hastings anymore," Bosley said. "I loved the people I had developed relationships with, and I don't think that would have happened had I not put myself out there and got involved."
Bosley began what would become her most influential piece of Hastings College involvement her sophomore year when she accepted a position as a Human Performance intern. A double major in psychology and biology, Bosley originally planned to pursue a career in physical therapy or sports medicine, but after finding a passion for coaching though the Human Performance program, her entire career path shifted.
"I always knew I wanted to help people. But it wasn't until I did the Human Performance internship that I realized there were options outside the medical field," she said. "One of the graduate assistants at the time I was interning approached me after one of our sessions and said 'for what it's worth, you'd be a great coach' and from that moment forward I knew that's what I wanted to do."
Since then she has completed two summer internships, her first at Abilene Christian University, and last summer at East Tennessee State University. The internships were a crucial time of growth in her personal and professional life, forcing her out of her comfort zone while living in new parts of the country.
This summer, Bosley will intern at the University of Colorado at Boulder, coaching all Olympic sports but specifically men's and women's basketball. The opportunity to live at home for a summer while also interning at a D1 university is something she credits to the experiences she gained through her prior summer internships.
"Being away from home is hard, but without the experience I gained I would never have the confidence to walk into the University of Colorado–Boulder and help coach Pac12 basketball," Bosley said. "I would encourage all college students to try at least one summer away, whether it's an internship, a job or a research opportunity. You learn so much about yourself and what you want to do with your life being out of your comfort zone, and that experience will help you find opportunities in the future."
After she graduates this spring, Bosley plans to pursue her Master's Degree in Kinesiology. Originally she planned to continue her education at East Tennessee State University where she previously interned, but decided to complete her degree online at A.T. Still University and stay in Hastings as a graduate assistant in the weight room.
Once again, her relationships are what influenced her to stay at Hastings College.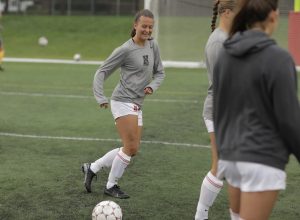 "I have great relationships with Coach Brett Wells and Coach Cole Fisher, our program director and head strength coach," she said. "I realized the people at Hastings know me and what I'm about, so they know how to help me improve as a coach better than anyone."
She has aspirations to eventually pursue her Ph.D. and become the head strength coach of a collegiate women's team, but for now she is using her extra time in Hastings to find new ways to get involved in the community. Some of these include coaching Girls On The Run at the local elementary school, spending time in the glass blowing studio and mentoring former teammates she has developed relationships with.
Bosley encourages other students to use the close-knit community and intentional relationships that Hastings offers to its full potential.
"I came here with the intent of soccer and school," she said, "but when you let Hastings take you in and do what it does, it takes you so much further than that. You create personal relationships that turn into opportunities you never thought possible."
By Landry Hinkson, a sophomore communication major from Bazaar, Kansas.