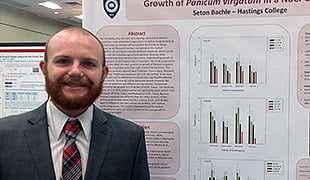 Seton Bachle, a Hastings College senior biology major from Murdock, Neb., was selected to present his research project, entitled "Growth of Panicum virgatum in a NaCI Gradient" at the 2013 Sigma Xi Student Research Conference in Research Park Triangle, N.C., this November.
His project explores the growth of switchgrass in salt water.
"Seton's work is the culmination of eight months of actual hands-on research followed by data analysis," said Dr. Amy Morris, Professor of Biology. "Prior to that, he spent significant time doing literature review to write his grant proposals. Research is a significant commitment that takes not only time, but perseverance."
Seton's project was the first to be funded through the Hastings College Excelsior Scholar Program. He also received funding through a Beta Beta Beta (BBB) national biology honorary research grant.
His preliminary work won the Johnson Award for best poster presentation at the April 2013 BBB NC-II district conference. Seton will next present his work at the National BBB Conference at Gannon University in June 2014.
He will spend much of the spring semester preparing his research in manuscript form for submission into the BIOS undergraduate research journal.