Through the use of wood, paint, found objects, laser cutting, 3D printing and proprietary, inter-dimensional media, Kevin Mercer's "Yonder Dreams" exhibition ushers visitors across the threshold of time and space, abandoning earthly preoccupations.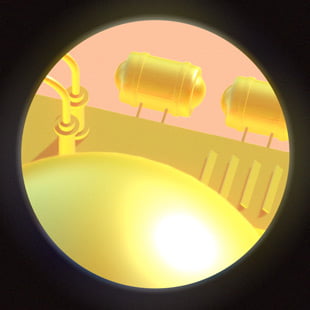 "Yonder Dreams" is open now through January 26 in the Hastings College Jackson Dinsdale Art Center critique gallery. It features new work by Mercer that explores tragedy and hopefulness in vintage science fiction. Mercer is an Adjunct Instructor of Art and Gallery Director at Hastings College.
Mercer will give a lecture on the exhibition on January 18 at 4:00 p.m. in the JDAC. The lecture is free and open to the public.
Gallery hours are Monday through Friday from 9:00 a.m. to 5:00 p.m., and Saturdays from 9:00 a.m. to 1:00 p.m. at the Jackson Dinsdale Art Center (700 E. 12th Street). The gallery is open to the public at no cost.
About Kevin Mercer
Kevin Mercer earned his BFA at Western Illinois University (2010) where he received the University Gallery Purchase Award. Mercer completed his MFA at The Pennsylvania State University (2014) where he received the Gerald Davis Painting Prize and taught courses in 2D and 3D design. In 2015, Mercer worked as Construction and Facilities Coordinator for the Carnegie Museum of Art in Pittsburgh. Prior to arriving in Nebraska, Mercer served as Assistant Professor and Galleries Manager at Texas A&M University – Corpus Christi, where he taught foundations and drawing.
Mercer's creative practice and research interests combine digital fabrication with traditional, handcrafting methods. His recent work has been shown in several exhibitions with Treat Gallery in Brooklyn, at the CICA Museum in South Korea, and at the Art Museum of South Texas in Corpus Christi. Several projects have been featured online with Dialogist, Young Space, Alebrijes Literature, United Projects and 365 Artists / 365 Days. His work will be featured in an exhibition with James May Gallery in Wisconsin in 2018.
Also on View
This month, the JDAC's main gallery features "Fire & Ice: The faceted textiles of MJ Kinman." A reception and gallery talk with Kinman, a Hastings native and graduate of Hastings High School, will be held in the JDAC on Friday, January 12, at 5:00 p.m.
Hastings College is a private, four-year institution located in Hastings, Nebraska, that focuses on student academic and extracurricular achievement. With more than 60 majors and 15 pre-professional programs, Hastings College has been named among "Great Schools, Great Prices" by U.S. News & World Report and a "Best in the Midwest" by The Princeton Review. For more, go to hastings.edu.