The work of four senior visual art majors is the final featured exhibition of the academic year in the Hastings College Jackson Dinsdale Art Center (JDAC) Gallery.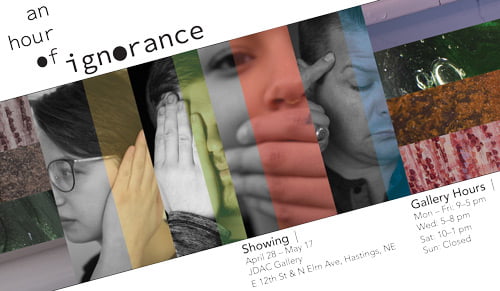 The exhibition, titled "An Hour of Ignorance," opens with presentations by the students and a reception on Sunday, April 28 at 2:00 p.m. in the JDAC. The exhibition and lecture are free and open to the public.
The senior thesis work will be on display in the gallery through May 20. Regular gallery hours in the JDAC are 9:00 a.m. to 5:00 p.m. Monday through Friday, plus 5:00-8:00 p.m. Wednesdays and 9:00 a.m. to 1:00 p.m. Saturdays.
The show features work from seniors Jake Arnett of Bennington, Nebraska; Victoria Bowens of Hastings, Nebraska; Jordyn Brandt of Exeter, Nebraska; and Jeric Minton of Clay Center, Nebraska.
Arnett's work, titled "Concrete Universal," features blown and fractured glass examining the "concepts and properties by which we attempt to explain our bizarre existence."
Bowens' work, titled "Washroom," features installation and performance art which examines how society labels and reacts to gender identity.
Brandt's work, which is titled "Space/Sound," features paintings exploring music, visuals and synesthesia, a state in which people have multisensory experiences, such as seeing colors when listening to music.
"Red Triangle" is the title of Minton's work, which features large metal sculptures and the process accepting change in our lives.
The senior thesis exhibition is in addition to the "IN/Habit" show created by third-year art students that's in downtown Hastings through May 10. For details on that show, click here.
Hastings College is a private, four-year institution located in Hastings, Nebraska, that focuses on student academic and extracurricular achievement. Hastings College has been named among "Great Schools, Great Prices" by U.S. News & World Report and a "Best in the Midwest" by The Princeton Review. For more, go to hastings.edu.