Third-year Hastings College art majors who are part of the Professional Practices course are breaking out of the Hastings College studios and taking their creative work to downtown Hastings where they will host "In/Habit."
The exhibition is open April 16 through May 10 at 721 W. 1st Street — which is between Steeple Brewery and Allo Communications in downtown Hastings. Hours for the impromptu gallery are Tuesday-Friday from 2:00 to 8:00 p.m. and Saturday from 1:00 to 9:00 p.m. The gallery is free and open to the public.
A free reception is scheduled for Saturday, April 27 from 2:00 to 5:00 p.m.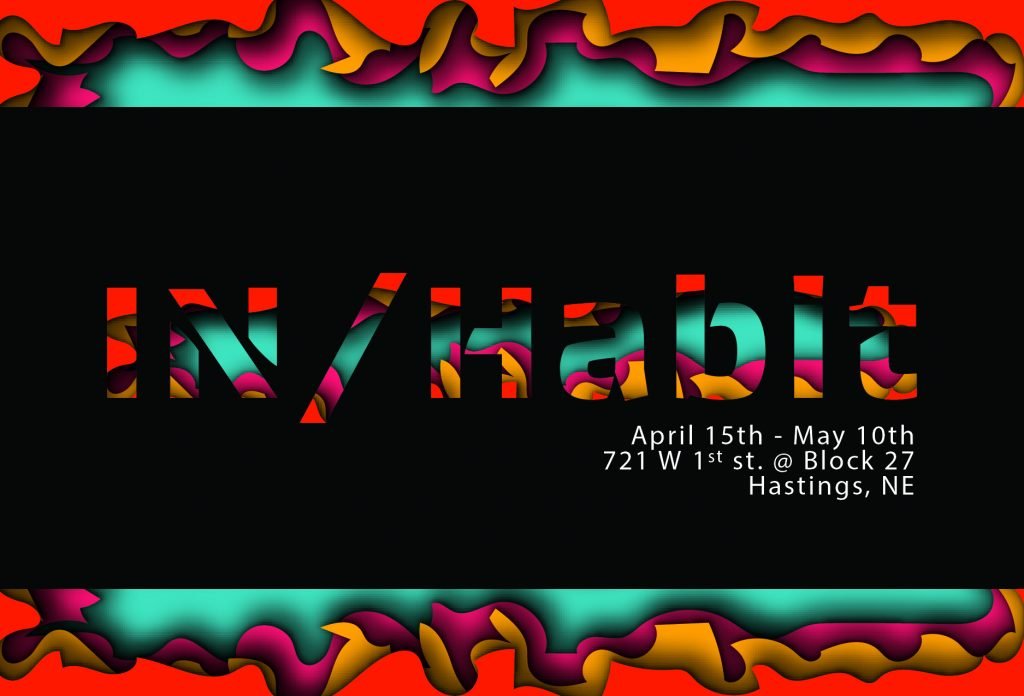 Replacing "Jr. Thesis," the new Professional Practices course is making use of the opportunity to promote the students' development in goal setting, time management, studio work habits, gallery practices, writing for artists and other professional skills that will aid them in their creative endeavors after Hastings College.
"One of my goals for the Professional Practices class was to make sure we kept the students' opportunity to exhibit their studio work to the public," said Aaron Badham, assistant professor of Visual Art. "The downtown exhibition is not only a chance for students to exhibit their creative work, but also an opportunity to engage the downtown Hastings community."
The location for the exhibition was provided in collaboration with the partners of Block 27 Lofts.  Not only did the students create the work, but they collaborated in developing and deciding on show dates, gallery hours, design and distribution of marketing materials, as well as the installation and curation of the show.
"An unexpected, positive outcome in developing this project has been the desire of the art students to initiate potential programming, by using the space as an off-campus meeting place for Hastings College student groups," Badham said. "Throughout the semester the class has conducted studio visits and critiques to help support and guide the individual artists' creative development."
The exhibition presents a wide range of mediums, including, painting, printmaking, comic book development, digital media/design, sculpture and glass blowing.
Student artists featured in the show:
Hannah Adams of Cairo, Nebraska
Dakota Boydston of Hastings, Nebraska
Lauren Feden of Papillion, Nebraska
Molly Loetterle of Juniata, Nebraska
Melissa Loney of Omaha, Nebraska
Morgan Stromer of Bladen, Nebraska
Autumn Teff of Fremont, Nebraska
Michael Wunderlich of Centennial, Colorado
Hastings College is a private, four-year institution located in Hastings, Nebraska, that focuses on student academic and extracurricular achievement. Hastings College has been named among "Great Schools, Great Prices" by U.S. News & World Report and a "Best in the Midwest" by The Princeton Review. For more, go to hastings.edu.