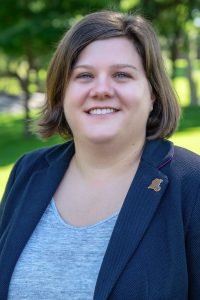 Dr. Eleanor Reeds, assistant professor of English, recently published an article in Neo-Victorian Studies, a peer-reviewed journal that explores how the nineteenth century continues to be reimagined today. Her article, "Chase Berggrun's R E D and Transfeminist Erasure: Uncovering a 'Queer Tongue' in Dracula," appeared in the recently released 2022 general issue and the project was presented as her Invited Faculty Lecture at Hastings College in September 2021.
In the article, Reeds explores debates about the representation of gender and sexuality in Dracula through a specific case study, examining how a modern transgender poet, Chase Berggrun, wrestles with Bram Stoker's classic novel through the practice of erasure. Berggrun used the words of the original text to create R E D, a collection of poems that narrate how a woman subjected to the abuses of patriarchal marriage discovers and articulates her own identity and agency.
"Careful analysis of this creative response to Dracula demonstrates how we can understand literary texts from the past not simply as artifacts of their original moment but as having ongoing histories and lives in which we can all participate," Reeds said. The article is available online as is a recording of Reeds's lecture.
Every spring, Hastings College students select two faculty members to present campus-wide lectures on the professors' topic of choice. The Invited Faculty Lecture is a tradition that dates back to 1967 and it is considered a prestigious honor.
Hastings College is a four-year residential college that focuses on student academic and extracurricular achievement. Discover more at hastings.edu.