Dr. Eleanor Reeds, an assistant professor with the Hastings College department of languages and literatures, will give an Invited Faculty Lecture titled "Uncovering a 'Queer Tongue' in Dracula" on Wednesday, September 29 at 1:00 p.m. in the French Memorial Chapel (800 N. Turner Ave.). The lecture is free and open to the public, and note that masks are required indoors on campus.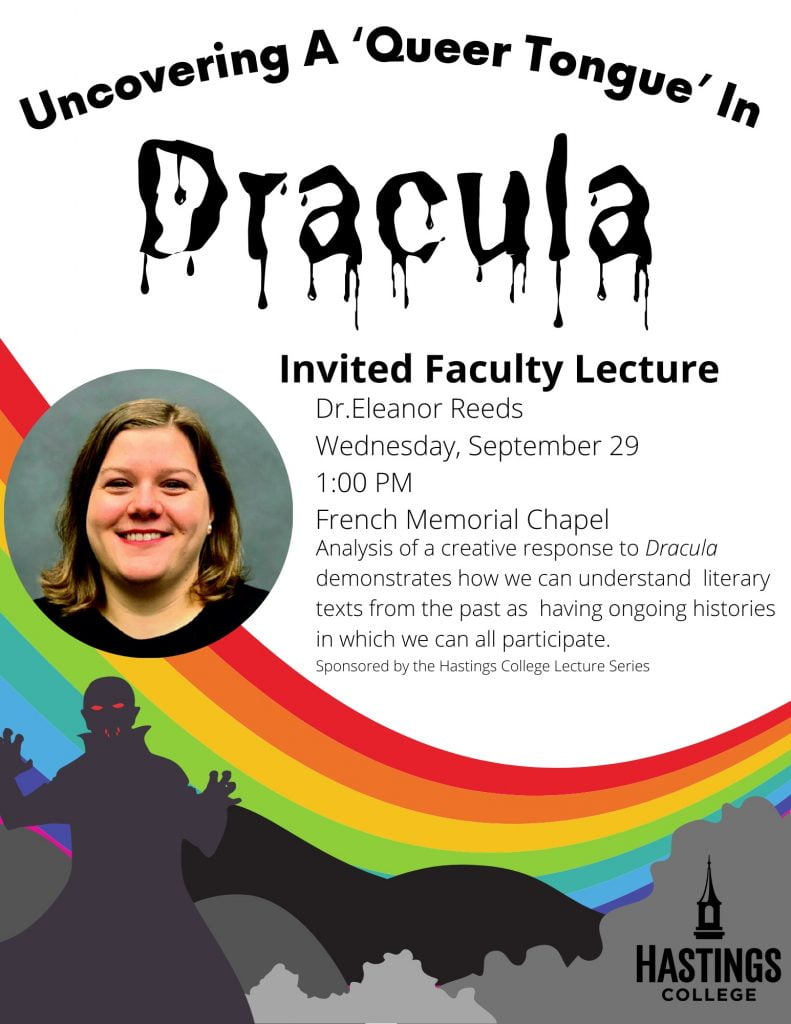 "Continuing the rich tradition of vampire fiction that we now see as 'queer,' Dracula has provoked debates among readers about its presentation of gender and sexuality since it was published in 1897," Reeds said.
Reeds will explore these debates through a specific case study, examining how a modern transgender poet, Chase Berggrun, reimagines Bram Stoker's classic novel through the practice of erasure. Berggrun used the words of the original text to create R E D, a collection of poems that narrate how a woman subjected to the abuses of patriarchal marriage discovers and articulates her own identity and agency.
"Careful analysis of this creative response to Dracula demonstrates how we can understand literary texts from the past not simply as artifacts of their original moment but as having ongoing histories and lives in which we can all participate," she said.
This is the first Invited Faculty Lecture of the academic year at Hastings College. Every spring, Hastings College students select two faculty members to present campus-wide lectures on the professors' topic of choice. The Invited Faculty Lecture is a tradition that dates back to 1967 and it is considered a prestigious honor.
The second Invited Faculty Lecture of the academic year will be given by Dr. Catherine Biba on March 23, 2022.
Bio for Dr. Eleanor Reeds
Dr. Eleanor Reeds joined Hastings College in 2018, where she now teaches courses across a range of genres, periods and national traditions. Having studied at the undergraduate level at the University of Cambridge, Reeds received her PhD from the department of English at the University of Connecticut. Her teaching and research interests span Romantic and Victorian British literature, genre theory, children's literature and creative writing. Reeds has published in a range of peer-reviewed journals including Victorian Poetry, Twentieth-Century Literature, American Literary Realism and Children's Literature Association Quarterly. She also serves as an associate editor for the poetry magazine, Plainsongs.
Hastings College is a four-year residential college that focuses on student academic and extracurricular achievement. Hastings' student-centered initiatives include providing books, an iPad and a two-week study away experience at no additional cost. A block-style semester schedule allows professors and students to focus on fewer classes at a time and promotes hands-on experiences. Discover more at hastings.edu.