Gregory Heisler, the photographer behind more than 70 cover portraits for TIME Magazine, will speak at Hastings College on Thursday, March 31, 2016, at 7 p.m. in French Memorial Chapel (800 N. Turner Ave.). The event, which is sponsored by Canon and the Artist Lecture Series National Speakers Committee and Main Committee, is free and open to the public.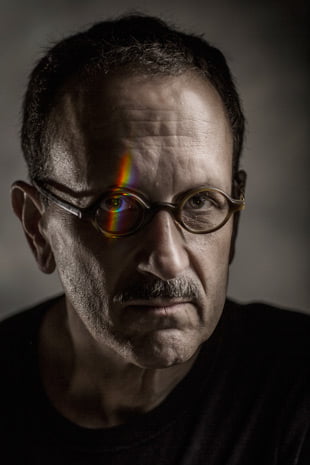 "For Hastings College to secure a photographer of Greg's quality and experience to speak is incredible," said Brett Erickson, Associate Professor of Journalism and Media Arts. "Attending his lecture is a must not only for people who love photography but also those entranced by history."
Immediately following the event, Heisler will sign copies of his book: Gregory Heisler: 50 Portraits: Stories and Techniques from a Photographer's Photographer. A limited number of books will be available for purchase.
Prior to his address, Heisler will conduct a five-hour photography workshop with Hastings College students.
Also note that photographer and artist Stephen Petegorsky will present a lecture that's free and open to the public on Tuesday, March 29 at 7:00 p.m. in Wilson Auditorium. On Wednesday, March 30, he will provide two photography workshops to students. More on Petegorsky.
Bio for Gregory Heisler
Renowned for his technical mastery and thoughtful responsiveness over a career spanning more than 35 years, Gregory Heisler's enthusiasm, curiosity, and drive are manifested in his hands-on approach to all aspects of the image making process.
Having photographed luminaries ranging from Bill Clinton to Bruce Springsteen, he is perhaps best known for his more than 70 cover portraits for TIME Magazine. His iconic portraits and innovative visual essays have graced the covers of many other magazines, including LIFE, Esquire, Fortune, GQ, GEO, Sports Illustrated, ESPN, and The New York Times Magazine.
He has photographed award-winning advertising campaigns for clients including American Express, Benson & Hedges, Dewar's Profiles, Ford, Guinness, Reebok, Nike, Merrill Lynch, and United Technologies.
Private portrait commissions are another important focus of his work. The first photographic portrait for New York's City Hall was his lithographic print of Mayor Edward I. Koch. Most recently, Gregory completed a series of large-scale portraits of noted authors and actors for the National Arts Club in New York City.
Among the kudos he has received are the ASMP Corporate Photographer of the Year Award (1986), the Leica Medal of Excellence (1988), the World Image Award (1991), and the Alfred Eisenstadt Award (2000).
Gregory is a sought-after lecturer and teacher at scores of international seminars. Nationally, he has taught at the International Center of Photography (ICP) and The New School for Social Research, the National Geographic Society, The Smithsonian Institution (Masters of Still Photography Program), the William A. Reedy Memorial Lecture series, Santa Fe Photographic Workshops, Maine Media Workshops, the Hallmark Institute, and in the Master of Fine Arts Program at New York's School of Visual Arts. He currently holds the position of Distinguished Professor of Photography at the S.I. Newhouse School of Public Communication at Syracuse University.