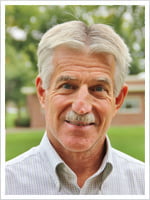 During the Hastings College Board of Trustees annual fall meeting today, Hal Dittmer '62 announced he was retiring as Chair of the Board, a position he has held for 12 years. Dittmer, who began his Board service in 1999, will remain an active member of the Board of Trustees.
The Board then elected Glen Moss '74 as its new Chair. W. David Scott '85 will serve as Vice Chair, the position previously held by Moss.
The transitions are effective immediately.
During Dittmer's tenure as Board Chair, the College has undergone a significant transformation. Projects completed include the Morrison-Reeves Science Center in 2009, extensive residence hall renovations, and, earlier this fall, completion of the Jackson Dinsdale Art Center and Steinhart Plaza.
"Hal's leadership and financial support for Hastings College goes well beyond physical projects," said Hastings College President Don Jackson '70. "Hal has personally recruited students to campus. He's provided scholarships, challenged fellow alumni to increase their contributions to the 1882 Fund and hired numerous Hastings College students as interns at his own company. Hal's love for Hastings College and appreciation for the education he received here is unmatched."
Dittmer is the founder, president and owner of Wellhead Electric, a California-based company.
Moss is chief financial officer, treasurer and secretary of Commonwealth Electric Company of the Midwest in Lincoln, Nebraska. He serves on several committees of the College's Board of Trustees, and is also leading the presidential search committee, which is tasked with hiring the 17th president of the College, following Jackson's retirement at the end of the current academic year.
Scott is the president and chief executive officer of Tetrad Corporation, a privately-owned asset management firm, and chairman of the board for Tetrad Property Group. Before rejoining the College's Board in 2015, he previously served as Trustee from 1997 through 2009.
Hastings College is a private, four-year institution located in Hastings, Nebraska, that focuses on student academic and extracurricular achievement. With 64 majors and 15 pre-professional programs, Hastings College has been named among "Great Schools, Great Prices" by U.S. News & World Report and a "Best in the Midwest" by The Princeton Review. For more, go to hastings.edu.