Preparations for another academic year at Hastings College are well underway. During the 2016-17 academic year, the College expects to celebrate the opening of the state-of-the-art Jackson Dinsdale Art Center, the transformation of one block of 9th Street into Steinhart Plaza and a renovated dining hall.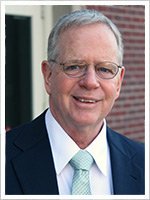 During today's Board of Trustees meeting, Hastings College President Don Jackson announced another transition: his intention to retire at the conclusion of the upcoming academic year.
"Hastings College made a profound difference in my life," said Jackson, a 1970 graduate of Hastings College. "I am proud of all the campus community has accomplished during the last three and a half years, and I appreciate the continued dedication to our mission by our students, their families, faculty, staff, alumni and trustees."
He continued: "In the year ahead, I look forward to continuing projects the campus has undertaken as well as identifying and recruiting a leader who can ensure this institution remains poised for continued success and prepared to fulfill its mission."
Jackson, who was appointed by the Board of Trustees as president in February 2013, said in the next few weeks he will work with the Hastings College Board of Trustees leadership to convene a search committee for the 17th president of the College.
"Hastings College is very fortunate to have Don Jackson at its helm as the institution continues to navigate challenges in higher education," said Hal Dittmer, chairman of the Board of Trustees and a 1962 Hastings College graduate. "Don is an accomplished leader, and he and the Board of Trustees are preparing to lay out an ambitious plan to reshape and prepare Hastings College for the future. The trustees look forward to working with Don to implement the plan during the next academic year."
During Jackson's time as president, the College renovated four residence halls and the dining hall; constructed the new Jackson Dinsdale Art Center, which will open this fall; began transforming a block of 9th Street into the Steinhart Plaza; made significant investments in infrastructure; and welcomed three of the top five largest incoming classes in the College's history.
Bio for President Jackson
Donald E. Jackson '70, knows the Hastings College story because it is his story. A Cambridge, Nebraska, native, he first entrusted Hastings College to put him on course for a meaningful career. Then, in the years following his graduation, he has given generously to Hastings College for capital projects and scholarships. From 2007 to 2012, he gave of his time and energy, serving on the Hastings College Board of Trustees and on the Hastings College Foundation Board. During his tenure on the Hastings College Board of Trustees, he served as vice chair.
After returning to Hastings College on a full-time basis in fall 2012 to serve as vice president for advancement, he became the college's 16th president on February 4, 2013.
Before returning to Hastings, Jackson served as chief operating officer of Easter Seals Inc., which benefits more than one million individuals with disabilities or special needs and their families each year through more than 550 program sites. He was responsible for all internal operations of the organization as well as overseeing all fundraising programs and activities, marketing, corporate relations, information technology and relations with 75 affiliate organizations in the U.S. and affiliates in Australia, Mexico and Canada. Prior to joining Easter Seals, Jackson was president of Rehabilitation Systems Inc., a multi-state health care corporation he founded.
He received a BA in biology from Hastings College. He holds an MS in rehabilitation services administration from DePaul University and a certificate in physical therapy from Northwestern University.
Jackson is married  to Beverlee Nelson, and they have three children.
Hastings College is a private, four-year institution located in Hastings, Nebraska, that focuses on student academic and extracurricular achievement. With 64 majors and 15 pre-professional programs, Hastings College has been named among "Great Schools, Great Prices" by U.S. News & World Report, a "Best in the Midwest" by The Princeton Review and a "Best Bang for the Buck" school by Washington Monthly. For more, go to hastings.edu.