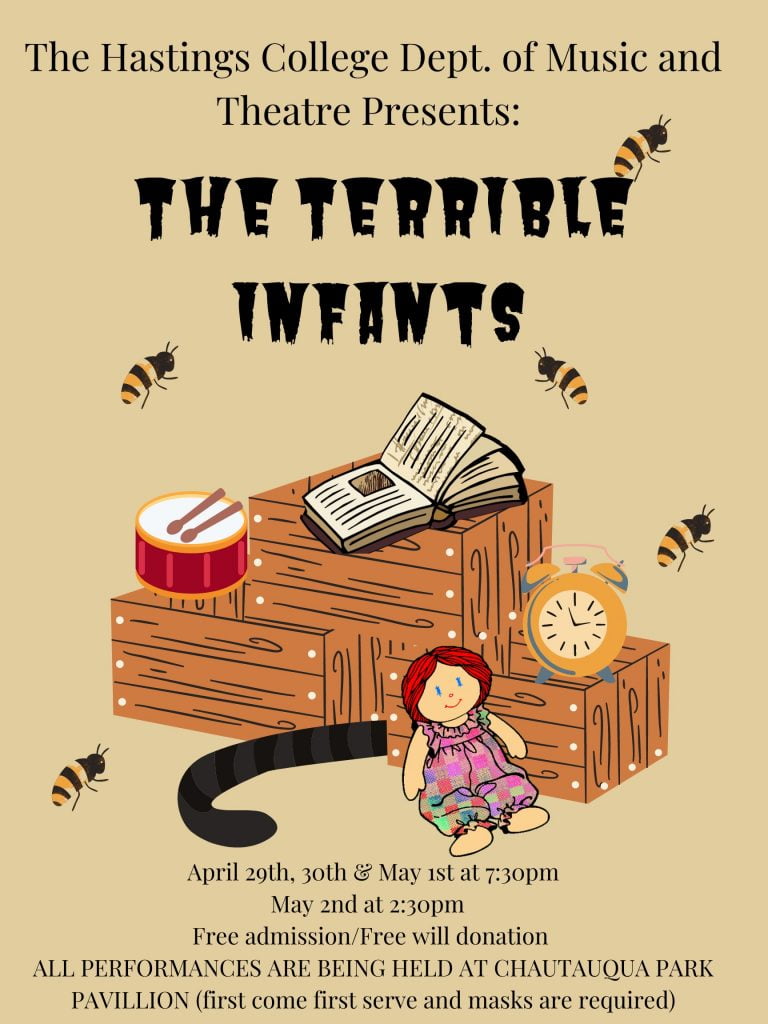 Hastings College Theatre is hosting a live outdoor production for its last show of the 2020-21 academic year. "The Terrible Infants" by Oliver Lansley and Samuel Wyer directed by Sarah Nottage-Tacey will be held at the Chautauqua Park Pavillion (West 5th Street) on April 29, 30 and May 1 at 7:30 p.m. and on May 2 at 2:30 p.m.
Performances are free and open to the public. Seating is limited and will be based on a first come, first serve basis. For those in attendance, face masks are required.
"The Terrible Infants" is based on a series of twisted tales and blends puppetry, performance and dark storytelling into a sensory theatrical experience suited for big kids and small grown-ups. "The Terrible Infants" dazzles with puppets made by the Hastings College puppetry class, while the high energy performance by the cast is sure to pull the audience in with its whimsy and irreverence. This is the first — and only — in person production of the year for Hastings College Theatre.
Tickets are also available for the second senior capstone production, "You Do Love Me,… Don't You?" by Claire Demmer. It is showing via Zoom April 23 and 24 at 7:00 p.m. To receive a link for that show, email tickets@hastings.edu.
The Terrible Infants by Oliver Lansley and Samuel Weyer
Director  — Sarah Nottage-Tacey, adjunct professor of theatre
Cast
Taylor Bartos of Hastings, Nebraska
Darci Wax of Colorado Springs, Colorado
Hailey Moore of Juniata, Nebraska
Tessa Burkey of Dorchester, Nebraska
Lindsey Pratt of Denver, Colorado
Keeley Garland of Superior, Colorado
Charly Lufkin of Fairbury, Nebraska
Juno Reese of Westminster, Colorado
Brooke Jorgenson of Orleans, NebraskaCrew
Stage Management
Stage manager — Shai Brillon of Wesley Chapel, Florida
Set Crew
Set Crew Head— Jax Carreras of Parker, Colorado
Turner Griffin of Grand Island, Nebraska
Costume Crew 
Costume Crew Head—  Rayvonne Wright of Austin, Texas
Charly Lufkin of Fairbury, Nebraska
Prop Crew 
Prop Crew Head— Chloe Dorenkamp of Fremont, Nebraska
Lighting Crew
Lighting Crew Head— Erik Nielsen, a community member from Hastings
Mel Palmer of Lynchburg, Virginia
Sound Crew 
Sound Crew Head— Dr. Bruce Batterson, associate professor of business
Emma Maline of Bellevue, Nebraska
Makeup Crew 
Makeup Crew Head- Keeley Garland of Superior, Colorado
Hastings College is a four-year residential college that focuses on student academic and extracurricular achievement. Hastings' student-centered initiatives include providing books, an iPad and a two-week study away experience at no additional cost. A block-style semester schedule allows professors and students to focus on fewer classes at a time and promotes hands-on experiences. Discover more at hastings.edu.