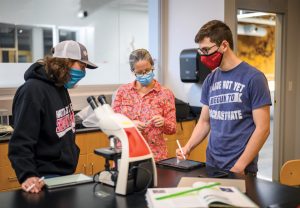 When some Hastings College students told their professors they did not have textbooks because they couldn't afford them, college employees brainstormed outside-of-the-box solutions. The result: The college now provides all students with the required books for their classes at no additional cost.
"We found an innovative way to remove that barrier to make learning affordable and accessible," said Dr. Rich Lloyd, executive president at Hastings College.
The books-included initiative is one of several new ideas that earned Hastings College recognition as one of the region's best undergraduate teaching and most innovative schools from the U.S. News and World Report. For many on campus, the honors highlight not only recent innovations, but also a decades-long culture of generating new ideas to benefit students.
"This is a place of ideas," Lloyd said. "We are always dreaming up new ways to benefit students. Innovations happen every day."
Among the biggest innovations recently was a total overhaul of the college's academic program to require an interdisciplinary studies minor and to convert courses to a "block" schedule. The new academic program was paired with a technology initiative that provides every student with an iPad and Apple Pencil. It also included the rollout of a "study away" program, offering students the chance to experience other cultures and gain a greater understanding of the world.
Partnerships 'best of both worlds'
More recently, the college established an academic partnership with the University of Nebraska–Omaha and the University of Nebraska Medical Center, and expanded its partnership with Central Community College (CCC). The partnerships allow Hastings students to enroll in courses at the other institutions but apply those credits to their Hastings College degree.
The college also formed a partnership with Bryan College of Health Sciences (BCHS). Hastings College will serve as an education partner, offering courses in support of Bryan's proposed second site for its undergraduate nursing program. Mary Lanning Healthcare will serve as a main clinical partner for the program.
Read more at the Omaha World Herald.