The Jackson Dinsdale legacy at Hastings College continues to grow.
A little more than a year after the opening of the Jackson Dinsdale Art Center (JDAC) on campus, Kim and Tom Dinsdale have made a gift to the College in honor of their late son, Jackson. The $8.5 million endowment legacy gift from Jackson's estate — the largest in the College's history — is designed to support all facets of the educational experience, as well as the Jackson Dinsdale Art Center and its related programming.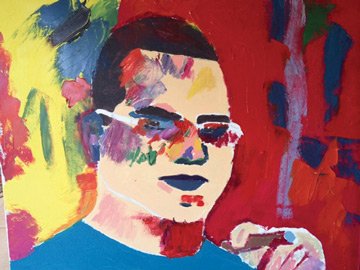 "We have an incredibly strong belief in Hastings College, its mission and the opportunities it creates for students," said Kim West Dinsdale, who is also a member of the College's Board of Trustees and chair of the Hastings College Foundation Board of Directors. "This gift from Jackson is a way to share his generous spirit while helping generations of students and the College be successful."
Hastings College President Dr. Travis Feezell said the gift to Hastings College is a wonderful way to continue to honor Jackson and what he believed in.
"It comes at an exciting and transformational time for the College as we build momentum for our future, a future built around specialized student experiences and an expanded personal approach that Hastings is famous for," he said.
Indeed, the gift comes just after Hastings College completed a review of where it is successful and where it can grow, and after the College balanced its budget and laid down a plan to remain Nebraska's premier private college. It also grows the Hastings College Foundation endowment to more than $85 million.
"We are going to change the conversation about what it means to be an exceptional college with a student-centered experience," Feezell said. "The Jackson Dinsdale Fund is a shot in the arm, and we are making it part of a larger, exciting College-wide initiative. This is the right time to elevate who we are and what we do; it's time to reimagine the Hastings College experience. I thank Kim, Tom and Jackson Dinsdale for their support and for their willingness to believe in our vision."
About Jackson Dinsdale
Jackson West Dinsdale was completing a major in studio art at Hastings College when he died May 3, 2014, of an accident. The Jackson Dinsdale Art Center was made possible thanks to a $5 million legacy leadership gift from the talented student-artist. The extraordinary gift, announced by Jackson's parents, Kim and Tom Dinsdale of Grand Island, Nebraska, launched an exciting future for the arts at Hastings College, while fulfilling the dream of a visionary young man who advocated for improved art facilities. The JDAC opened on August 20, 2016, and Jackson was awarded an honorary degree on that day.
Hastings College is a private, four-year institution located in Hastings, Nebraska, that focuses on student academic and extracurricular achievement. With more than 60 majors and 15 pre-professional programs, Hastings College has been named among "Great Schools, Great Prices" by U.S. News & World Report and a "Best in the Midwest" by The Princeton Review. For more, go to hastings.edu.