From Hastings College Media to the College World Series in-house production team  and, in January, to the University of Cincinnati Athletic Department's Bearcast Television, Hastings College senior Jake Zink's involvement in sports broadcasting has created a lengthy and impressive resume.
Zink's opportunity in January allowed him to explore beyond the Cornhusker state when he interned for an NCAA Division I school.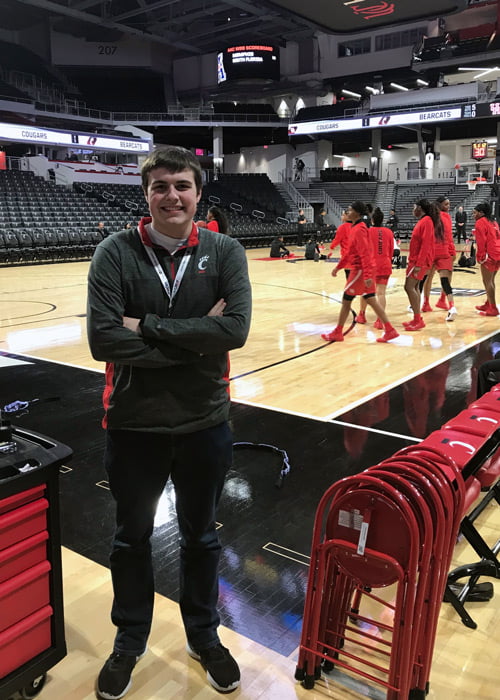 As a double major in broadcasting and journalism with a sports emphasis, Zink strives to work alongside a production staff during live sports events. His internship at the University of Cincinnati gave him additional experience and assurance that this was the career he wants to pursue after he graduates this May.
Zink was able to work alongside Bearcats Television crew members in producing content for the the university's athletic department through Adobe software, video editing and live video board work for their website, home games and social media outlets.
"I felt very prepared walking into this internship because of my hands-on experiences at Hastings College," said Zink.
On campus at Hastings, Zink is active with sports media. As a live sports director, Zink organizes all Hastings College live sports productions, including the media team's streaming and ESPN3 productions for the NAIA's women's volleyball and women's Division II basketball national championships. He also supports streaming for music and other productions on campus.
Through networking and demonstrated successful work, he's been on production crews for  events such as the NCAA College World Series, the U.S. Olympic Swim Trials and the NCAA March Madness tournament.
"Jake has such a broad background in media through these experiences that he's revolutionized our digital media platform here on campus," said Adam Maser, assistant athletic director for media relations. "For example, he's single-handedly found ways to make the game day digital experience better with pushing the replay platform to the video board in the arena forward. He has pushed the bounds of what I thought our capabilities were to show that the big arena experience can be had at Hastings College."
Zink has worked alongside Maser since 2016 in managing on campus athletic events, which has given Zink even more experience with pushing live stats, replay and directing live sportscasts to make himself more marketable for other sports production companies.
Even though he has had a number of internships and employment within his field of study, Zink said he's thankful for the opportunity to intern outside of Nebraska in January.
"I was able to work outside the state and in an unfamiliar space, which gave me the opportunity to learn how to be independent. It helped me experience working with different people within different environments," Zink said.
After graduation, Zink said he hopes to continue working in sports production at the college or professional level.
By Dany Cook, a senior from Fairfield, California, majoring in journalism and broadcasting.