On her family farm, near Minden, Nebraska, artist Sally Jurgensmier '93 uses a wire welder to transform cold scrap metal into wondrous, expressive sculptures that fill her farmyard and showroom: a giant rooster and cat, ornate crosses and dozens of abstract pieces with metal rods spiraling around axles, blades and gears.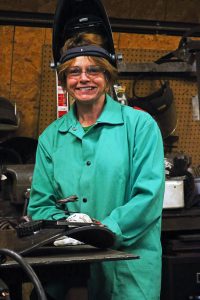 "It started at Hastings College with Tom Kreager. That was my first introduction to welding," Jurgensmier said. "People assume I learned to weld on the farm, but that was not the case. It was a totally new experience for me."
Over the past three decades, Jurgensmier has fused her passion for art with her rural sensibilities to create a thriving business, "Sculptures by Sally." Since her first welded sculpture in college (an archway that now welcomes visitors to a sculpture garden outside her showroom), she has salvaged materials from manufacturers' scrap heaps and farmers' piles of discarded metal and old machinery.
"Every farmyard has an iron pile, so I went through my dad's. Word got out, and I started getting calls from neighbors asking if I wanted to look at their metal scraps before they took them to the junkyard," she said.
Jurgensmier's work can be found in private collections throughout the state. In 2020, the Hastings Business Improvement District commissioned her to create "Cottonwood," a raw steel sculpture of a cottonwood leaf that now sits at the corner of First Street and Lincoln Avenue. In August, she was one of only seven artists, artisans and craftspeople featured in "Heartland Handmade," a television special on Nebraska Public Media.
Reflecting rural life
In a metal whooping crane, Jurgensmier captures the beauty of the majestic, long-legged bird that migrates over her fields. She recreates in metal the cornstalks and cows that are familiar sights along Nebraska's country roads. She welds pieces of old machinery into abstract sculptures that seem both ornamental and functional, like they could hang on a living room wall or plow a field.
Jurgensmier's most satisfying transactions occur when patrons visit her farm in person and experience the environment where the art is created.
"I live in a rural area, and I'm very influenced by that in my art," Jurgensmier said. "To create more of an attachment between me and my customers, I like for them to come here, see where I live, see my workshop and the showroom where the finished pieces are displayed. It gives more meaning to the pieces and helps customers attach them to their own experiences and memories."
Visitors to Jurgensmier's farm also find remnants of her late mother's antique business. Old photo frames, dishes and furniture, all for sale, line the east wall of the artist's showroom.
"My first sculptures were highly influenced by my mom's business and our collaborations," Jurgensmier said. "The antique business was a good way for us to spend time together, so that was a natural influence on my art."
Inspiration from a pile of junk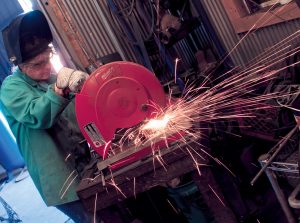 Jurgensmier does what she calls the "dirty work" of cleaning, cutting, grinding and welding metal in a building separate
from her professional showroom. That building houses a narrow welding shop and the enormous collection of scrap metal gleaned from local manufacturers and neighbors' farms.
"There are days when I head to the welding shop when I know what I'm going to make. I've been cataloging some of my junk in my head so I know where to find it, what to do with it and how to put it together," she said. "Other days, I just start with a piece of junk. The reason I've kept it might be the texture, the shape or just the feel of it in my hands. That's where the inspiration comes from."
Jurgensmier's tidy farmstead with its brick ranch house, red outbuildings and scampering farm cats might be an unconventional place to create great art, but for an artist grounded in and inspired by rural life, it's an optimal setting.
"An ideal day for me is a day I never have to leave the farm," she said. "That means I get up, drink my coffee, walk the dogs, go to the welding shop and let the ideas unravel and the metal speak to me. That's a great day."
By Judee Konen '85