One of the main goals of any community is to cultivate its youth so that they can be successful throughout their lives. A few businesses in McCook, Nebraska, and the surrounding area have taken that message to heart, providing unique opportunities for students before they enter the "real" workplace.
As internships increase in the area, people fresh out of high school or in the early years of their college careers are given chances to prove themselves in their field of choice while simultaneously gaining real-world experience. Those interns will provide their own view of their experiences in the below column.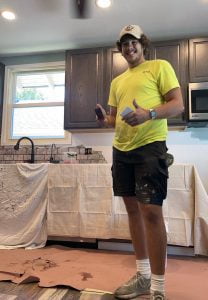 Isaiah Wiemers is a junior attending both Hastings College and Central Community College (CCC) majoring in business with a minor in construction management. He completes his construction classes at CCC, while he takes business classes at Hastings, where he also plays defensive end on the football team.
He's currently employed as an intern at M&B Construction and CB Seamless Gutters. Wiemers has been with the company for four years, and after starting with "grunt work," has worked his way into an apprenticeship-style position, where he works more closely with Mike and Chad Brenning doing bid estimates and planning out projects.
One of Wiemer's favorite aspects of his job is its variability.
"We rarely do the same thing two days in a row…every day brings a new challenge and puzzle to work through," he said.
Wiemer feels rewarded by the work he does, and it has even affected how he approaches everyday life, he says:
"The most rewarding part about doing this kind of work is when the project is all done and you can sit back and admire what you have built from just an idea on a blue sheet of paper. Also, it affects the way I view the world. Anywhere I'm at, I'm always thinking about how they did this or that and knowing the amount of work other people have gone through to finish the structures I see everyday."
Over the past four years, working for M&B and CB Seamless Gutters has given him plenty of experience in almost every possible area of construction, as his training has included concrete work, framing, drywall, painting, flooring, cabinets, installing toilets, sinks and showers, house siding and gutters, doors and windows, decks and everything in between.
Wiemer plans to complete his degree, then work for a few years on a construction crew before eventually owning his own construction business in the McCook area he grew up in. He said he believes his internship has significantly helped him achieve that goal, and recommends others follow a similar path:
"I would recommend an internship in whatever major you're going into. It gives you a view on the real-life aspect of what you will be doing the rest of your life. It will help you understand the things that you're learning in college after seeing it in the real world. If you are going into construction, I would recommend an internship with Mike and Chad, as I have learned a lot from them over the last four years. They treat you like you're a part of their family when you're working there."
Mike and Chad Brenning of M&B Construction and CB Seamless Gutters says that internships at their companies are mutually beneficial:
"Internships are a great way to help bring back the youth of our area following the completion of their education. For the construction field, they bring in fresh ideas of more modern building techniques, but are still willing to learn the 'old school' ways. Isaiah has been a great asset to both M&B Construction and CB Seamless Gutters as a summer intern the last four years. He has been learning all aspects of working and running a small construction company in southwest Nebraska. Both businesses offer a variety of construction options, so Isaiah is able to use what he has learned in the classroom and apply those skills to each job site. He has been very open to learning the start-to-finish process for jobs, from estimating to helping plan the execution of a job. With the help of interns like Isaiah Wiemers and other local youth that are willing and eager to learn in the construction trade industry, M&B Construction and CB Seamless Gutters continue to offer all areas of construction for southwest Nebraska homeowners and businesses. We highly encourage all businesses to continue hiring interns or consider doing so in the future. These kids are our future, let's bring them back home!"
By Isaac Nielsen of the McCook Gazette
Note: This article originally appeared in the McCook Gazette on July 25, 2023.