Hastings College senior Mariama Sesay has always loved practicing skincare because when she looked around at her family, they all had flawless skin at any age. She said she dreamt of making African skincare products popular to honor her roots, and is working to make that dream a reality with her skincare line "I skinkare."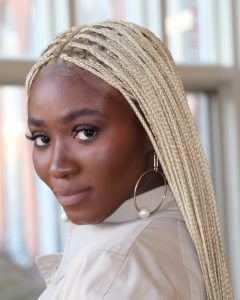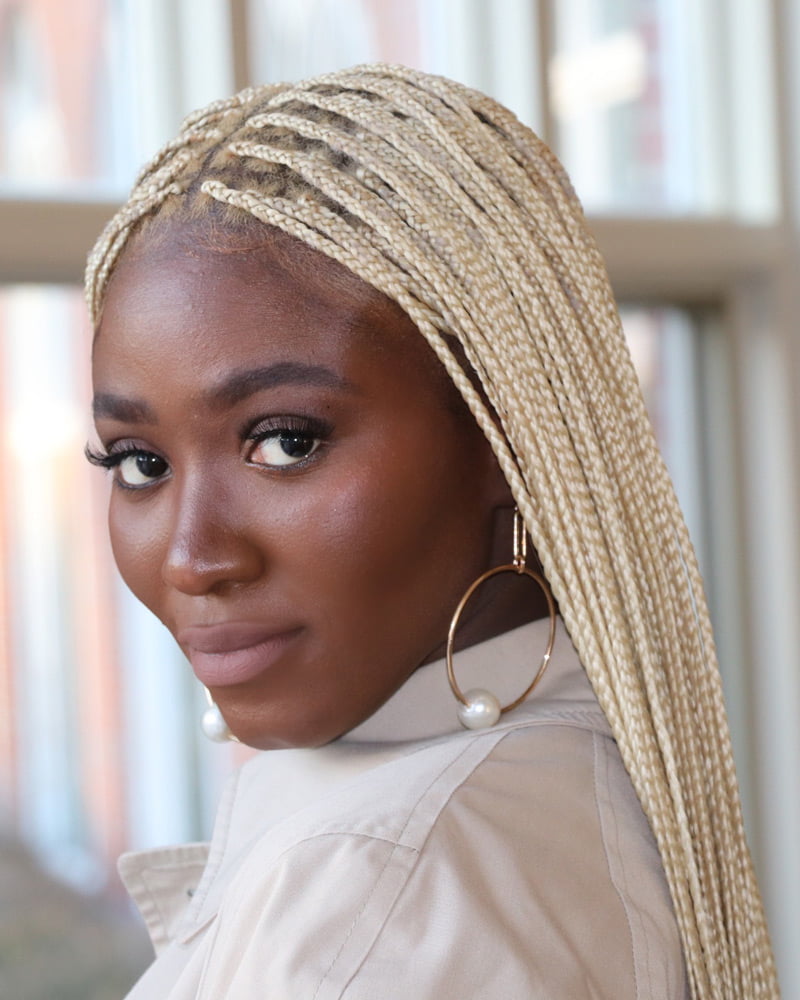 Sesay moved to Denver, Colorado from Sierra Leone on her birthday in 2010. She said her mom was a big fan of Denver's mayor, Michael B. Hancock '91, and believed that if the school was good enough for him, it was good enough for her daughter.
The digital art major worked on a biochemistry degree until her junior year before making the switch. Both of her passions of digital art and biochemistry have helped her create her skincare line. Biochemistry has helped her understand formulas, while digital art is a skill that allows her to create her skincare line's branding.
She started making do-it-yourself products with coffee, honey and even eggs. In 2019, Sesay was experimenting with milk products before realizing she is lactose intolerant — which pushed her to begin experimenting with dairy-free and all-natural formulas.
During the fall 2020 semester, Sesay took a Marketing Principles course with Brody Emery, Hastings College instructor of business and economics. Through the course, Sesay developed a business plan for I skinkare.
"Developing my goals for the business has made me more excited about starting my business," she said. "I want to establish an international skincare company, put African skincare on the map, compete with existing brands and create generational wealth for African women."
To launch her skincare line, which she hopes to do by the end of this year, Sesay plans to develop face masks and exfoliants. She has been working alongside Maggie (Vaughan) Esch '16, the owner of Vaughan's Printing Co. and the regional entrepreneurship director for Central Community College in Hastings, Nebraska, to continue working on her brand development and business plan.
"I want to focus on the two categories to gain credibility with customers before developing more based on what my customers want," she said.
Sesay has decided on her formula for her skincare line and is waiting to receive funding to purchase more ingredients and begin the manufacturing process. Her goal is to create products in sustainable packaging and include spoons so customers can apply the products without using their hands.
During her time at Hastings College, Sesay said she has learned how to take risks and be persistent. She said she has enjoyed her time in school because of the community Hastings has on-campus and off.
"When I was switching my major from biochemistry to digital design, my biology professor, Dr. Amanda Solem, literally helped me make the change because she knew it was something I needed to do," she said.
Sesay has also developed her digital art skills to create graphic designs to educate others about issues of race, climate change and other issues in society. She said she intentionally makes her designs virtually so that more people can access them.
The support people on and off campus have helped empower Sesay to start her own business and find the career path right for her.
By Courtney Hanson, a senior from Brookings, South Dakota, majoring in communication studies and philosophy and religion.