Dr. Hillary Watter retiring as Professor of Music.
Dr. Hillary Watter's reputation as a challenging professor precedes her — just ask any current or past Hastings College music student. Her deadlines are tough and her expectations are tougher. But those bold enough to accept the challenge learn a secret about the professor of music they will not soon forget: Her passion for teaching comes with a deep love for her students that reaches far beyond the classroom.
Jensyn Bell '13, a K-12 vocal music education and vocal performance major, never saw this more than when she fell ill during the summer before her senior year while working in Hastings. Watter met Bell at the ER, where she was diagnosed with mono.
"Since I didn't have any family in town, she let me stay in her basement as I recovered," said Bell, who now teaches elementary music at Westbrook Elementary in Omaha. "She took care of me and made me matzah ball soup."
That aspect of caring for the whole person is what students say they will miss most about Watter, who is retiring from her position at Hastings College at the end of the 2019-20 school year. Watter joined the HC faculty in 1990, teaching studio voice, diction for singers and vocal pedagogy. With family on the East Coast and her 90-year-old father in Florida, retiring her teaching position will allow Watter to travel more easily.
"I thought, 30 years sounds like a good career," she said. "I really wanted the flexibility after 30 years to go see family."
She will continue living in Hastings and give attention to her other businesses and activities, including teaching private voice lessons, selling real estate and, as of this summer, serving as vice president of the Nebraska State Chapter of P.E.O.
"I'm going to miss the daily interactions with so many young adults. Their energy and joy is so contagious," Watter said. "I'm going to miss the high level of music we were able to create. One of my biggest rewards I get as a professor is seeing students produce at a higher level than they ever expected of themselves."
Aiming higher
It's a hallmark of Watter's instructional style. All of the students interviewed for this article mentioned their professor's gift for pushing them beyond what they thought possible. HC junior music education major Zoe Dahlgren called it "making sure we are being the best version of ourselves we can be."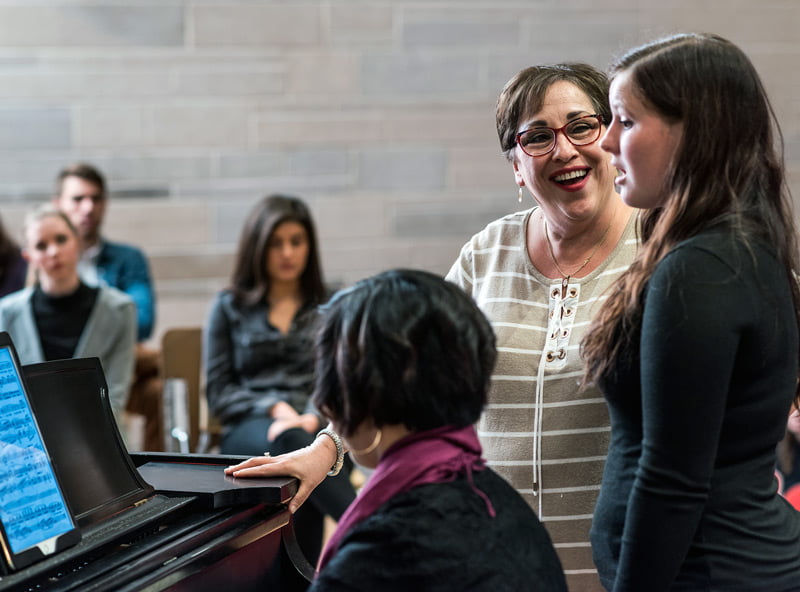 Zachary Peterson '14 said Watter's high expectations were complimented by her sense of humor. "Studying voice has unique challenges as your body is the instrument, and her approach was welcome in many stressful situations," he said.
Also complimenting her teaching style is her investment in the whole person — their health and wellness, their career path and their long-term happiness. "Hillary always went the extra mile for me, and I will forever be grateful for her continued mentoring and friendship," said Peterson, the graduate advisor at the Eastman School of Music of the University of Rochester and an adjunct instructor of music at the University of Rochester.
Dillon Beede '11, now an adjunct instructor of vocal and choral music and fine arts recruiter at HC, said Watter won't take less than the best work a student can produce. "I can't thank her enough for teaching and modeling this in her coursework while I was a student; it's part of the musician and teacher I am today," he said. "She brings a no-nonsense directness to her work and you know exactly where she stands in relation to her pedagogy and goals for her students."
Musical identity
As a child in Kearny, New Jersey, Watter knew she wanted to be a teacher, and she knew she loved music — she just never put the two crafts together. It was a high school music director who inspired the idea of a career as a music teacher, and who helped her embrace her identity.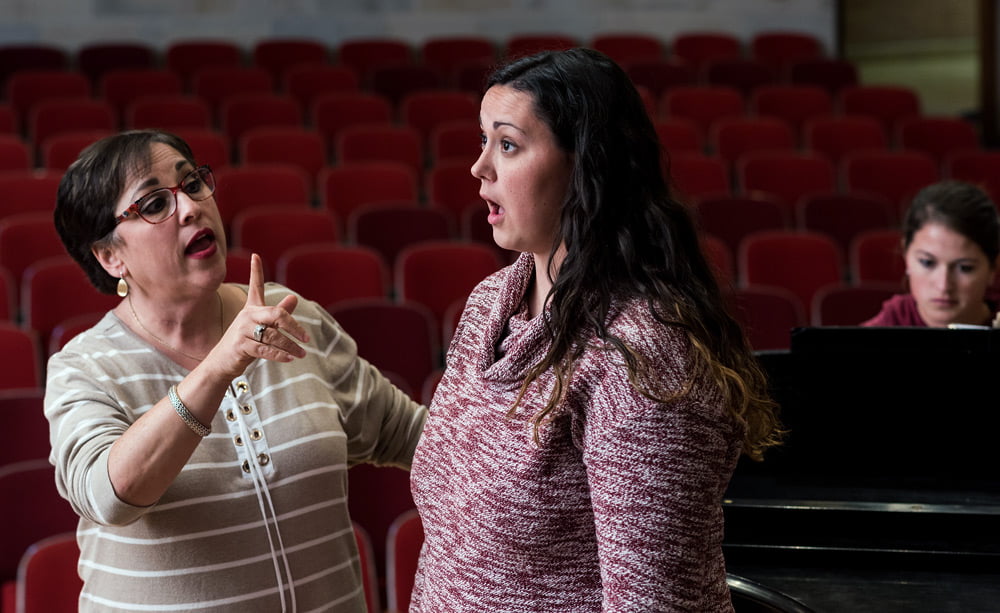 "I learned that it was more than OK to express my emotions through the pieces I sang," she said. "I became more comfortable and confident in my own skin, and it was then that I knew I had to teach music. I wanted to do something for someone that someone had done for me."
Off to the University of Maryland she went, intending to train as a K-12 music teacher. But her developing talent for singing inspired her to pursue a master's degree in vocal performance and literature at the Eastman School of Music, and then a doctorate from the University of Kansas. She was teaching as an adjunct professor at Missouri Western State College and writing her doctoral dissertation when Hastings College came calling. Though Nebraska was not the location she had been hoping for, she agreed to stay for two years.
"I know it sounds like a cliché, but I fell in love with Hastings — the town, the community and the college. The administration was so supportive of music; it was such a welcoming feeling. Everything we did as a department was well received. It was such a joy making music in that kind of environment," she said.
Music lovers
She is not the "laid-back kind of teacher," she admits. She assigned vocal pieces that would take singers outside their comfort zones. "Almost always, they achieved success that was much higher than they anticipated they'd be able to reach. And I definitely pushed them. I modeled myself after the teachers I respected the most. They were always the ones who didn't accept less than my best."
Watter continued to push herself as a vocalist, too, throughout her career, performing in faculty recitals and musicals at Hastings College. But due to a diagnosis of Sjogren's syndrome, an immune system disorder that causes dry eyes and mouth, she is no longer able to sing.
"My mouth and my eyes are so exceptionally dry, I can't make it through a whole song," she said. Instead, she continues to be a lover of music by training other singers — and by listening at home to choral and orchestral pieces by the greats like Mozart and Bach.
"I hope that if nothing else," she said, "I've taught students to be future consumers of music and lifelong lovers of music."
No doubt 30 years of HC vocal students would say she indeed has.
By Amy (McGraw) Palser '99